The Kia Stinger's twin-under-the-skin Genesis G70 will allegedly be lighter and potentially offer greater performance, according to a report.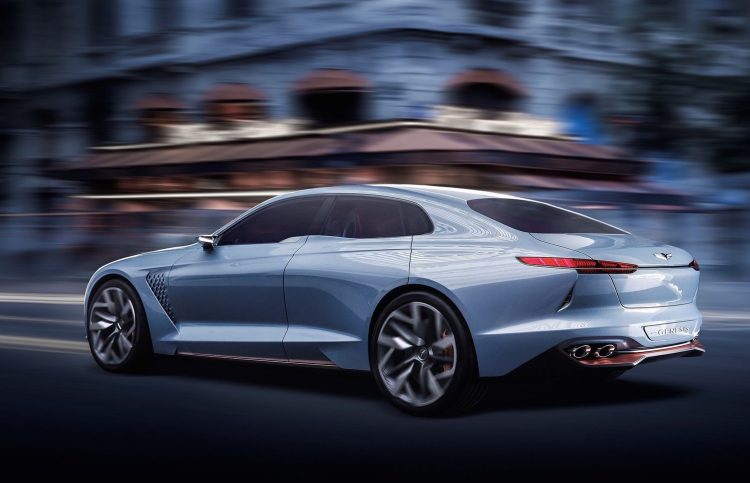 Australian publication Motoring spoke with Hyundai Australia's PR manager Guido Schenken about the upcoming car.  Schenken said:
"The Genesis G70 and Stinger represent different design philosophies and positions in the market. The Stinger is a five-door touring sedan with a hatch, while the G70 is a pure sports sedan. The G70 is shorter, narrower and lighter than Stinger as well as having a shorter wheelbase, hence it's reasonable to assume it'll offer better performance."
The G70 will be aimed at the BMW 3 Series and Mercedes-Benz C-Class and the likes when it is unveiled later this year. It is expected to feature the same 2.0-litre turbo four-cylinder and 270kW 3.3-litre twin-turbo V6 as the Kia Stinger, which is rumoured to sneak under the $50K mark. In comparison, the Genesis version will probably be priced around $10,000-15,000 more than the equivalent Stinger.
As for the design, the G70 will likely be inspired by the New York concept (pictured), showing off Genesis's latest styling language. It features  curvy silhouette with plenty of aggressive highlights.
The vehicle being lighter could mean the Stinger's 4.9-second 0-100km/h time could be surpassed in the Genesis. The premium Hyundai brand is working on a six-model lineup before the end of the decade, with a production version of the GV80 SUV likely to follow the G70.