The final teaser of the FPV GT F has been released just ahead of its full reveal tomorrow. It's expected to be one of the quickest-selling Falcons to hit the market as it will be the last Falcon GT ever.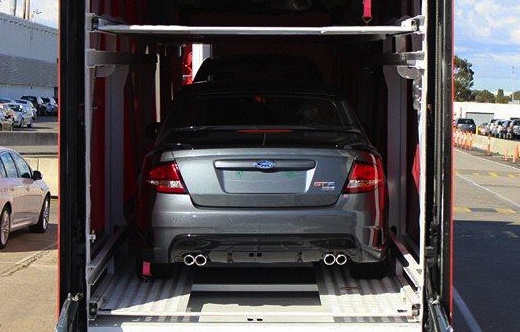 The latest preview image gives us a glimpse of the rear end. It reveals a gloss black diffuser section underneath with the fashionable quad-outlet exhausts, while on top is a large wing that's also given a coat of gloss black paint.
Ford Australia will be looking to give the GT Falcon a proper send off, and as the image shows, the company will probably showcase classic Falcon GT models with the unveiling.
FPV fans will be pleased to here the GT F will be the most powerful model to hit the showroom. Under the bonnet sits a tweaked version of the current GT 5.0-litre supercharged V8. It develops 351kW, paying homage to the original 351-cubic-inch models.
In other areas, the special edition will feature 19-inch wheels with 275mm rear tyres, sports suspension and brakes, lots of special decals and badges, as well as a unique on-board computer with g-force and boost gauges.
Prices for the new beast start at $77,990 for the sedan and $52,990 for the 315kW ute version. Just 550 examples are being made. Stay tuned for the full reveal tomorrow.