The new 2015 Volkswagen Polo GTI has been unveiled, showcasing a new 1.8 engine, new technology, and a smartened up design inside and out.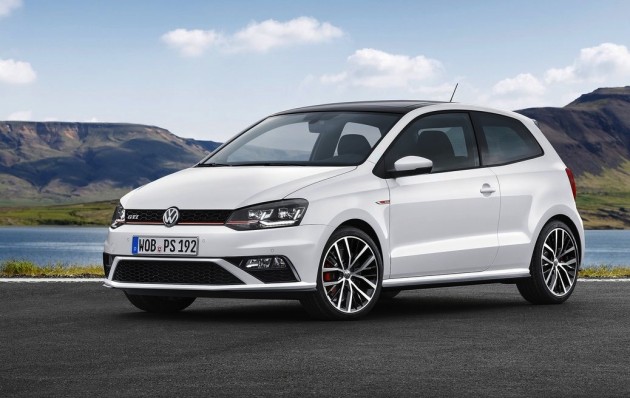 It's regarded as one of the very best compact hot hatches around. And now it's even more powerful than ever. The 2015 model gets a 1.8-litre turbocharged four-cylinder engine producing 141kW of power and an impressive 340Nm of torque (up from 132kW and 250Nm).
With these figures it will become one of the most powerful cars in its class, and also likely the quickest. Acceleration times for 0-100km/h haven't been mentioned, however, we have clocked the 2013 Polo GTI in just 6.3 seconds. In other words, the new model is going to be very enthusiastic indeed, especially with all of that torque on hand.
Backing the engine this time around will be a six-speed manual transmission or an optional seven-speed dual-clutch auto. Both distribute power to the front wheels as usual.
Other mechanical updates are expected to include adaptive dampers and selectable driving modes like what is seen on its bigger brother, the Mk7 Golf GTI. In the Golf there are four driving modes and a programmable mode which you can preset yourself, with steering, throttle sensitivity and damper setting adjustment.
As part of the adjustable driving modes the 2015 Polo GTI gets a new touch-screen interface which blends in most of the car's controls and media systems. We can expect satellite navigation to be infused into the interface this time around, unlike the previous GTI sat-nav option that was a remote accessory.
In terms of design, well, the GTI is based on the recently-facelifted 2015 Polo. This means it's a little bit sharper and more defined around the edges, with new headlights and LED daytime running lights.
The GTI gets trademark honeycomb grilles, a wider lower intake mouth at the front with integrated fog lights, along with a revised rear end with harder-edged panel contours and a more aggressive diffuser underneath.
Volkswagen will introduce the new model early in 2015. Local prices are yet to be announced. If the manual is offered in Australia prices may drop below the current $27,990 three-door entry model price.
More details will be released at its public debut during the Paris Motor Show in a couple of weeks.