Ford has unveiled the Mustang GT4 race car at the 2016 SEMA show, for those hoping to purchase a new 'Stang and head directly to the race track.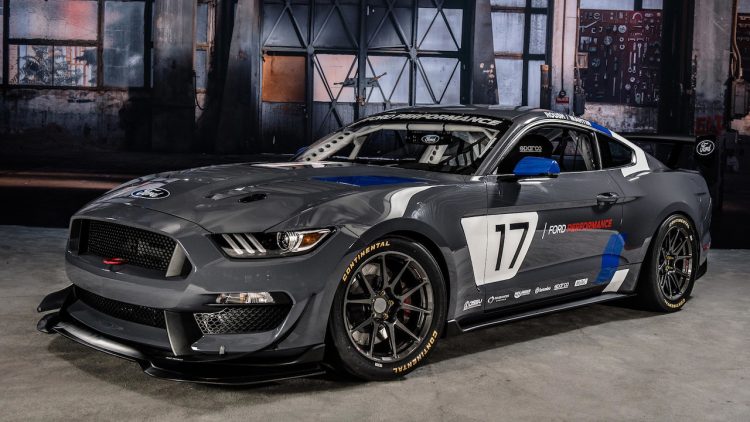 Mustang GT4 is based on the Shelby GT3550R-C, which took out this year's IMSA Continental Tyre SportsCar Challenge in its first season of competition. It is powered by a 5.2-litre V8 engine, similar to the road-going Shelby GT350, except the GT4 has a cross-plane crankshaft replacing the GT350's flat-plane design. Power is transferred to the road via a six-speed paddle-shift transmission supplied by Holinger.
Aerodynamic efficiency has been top of the list for the team at Ford Performance, and the Mustang GT4 doesn't disappoint with its massive rear wing and aggressive front splitter. Under that bodywork, there's a modified chassis from Multimatic Motorsports, changes to the dampers, lower rear control arms and stabiliser bars. The Mustang GT4 rides on 18-inch by 11-inch wheels wrapped in racing slicks.
Ford says the GT4 is ready to enter any GT4 race series around the world, as well as the Pirelli World Challenge series. "The new Mustang is a global vehicle," says Mark Rushbrook, motorsports engineering manager at Ford Performance. "Now, its growing fan base has a GT4 competition model to race and support around the globe."
Also debuting at the 2016 SEMA event is Ford Performance's new data-logging app, which comes packaged with the GT4. The app will log lap times, speed and various telemetry, and will be available for Android and IOS in 2017. Dave Pericak, global director of Ford Performance said:
"Ford Performance wants to provide our customers a simple, shareable way to capture their track exploits. The ability to take their track sessions with them everywhere they go and easily share their footage and data with friends is a huge benefit of our new app."
Ford has arrived at the 2016 SEMA event with no-less than 50 vehicles including builder concepts, race-winning cars like the Le Mans-winning Ford GT and a host of Ford Performance parts.