A vertiable treasure trove of future Jeeps has leaked onto the internet, after a dealer presentation was covertly snapped on a smart phone. The 2018 Jeep Wrangler and 2019 Grand Wagoneer flagship sit alongside the new Compass, Cherokee, Grand Cherokee, and baby, Italian-made Renegade.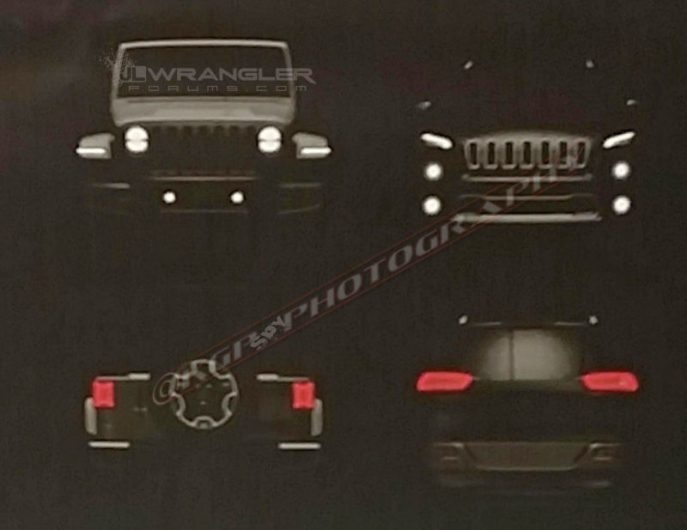 The first two are what makes this picture such hot property, as they are not due to be released for quite some time. The 2018 Wrangler appears to retain the iconic, overall design lineage that identifies it, but with some half-circle LED lights and LEDs on the front wheel covers. The rear end shows the same 'fuel tank' rear light treatment as the Renegade and a new alloy spare wheel design.
The next Wrangler is expected to feature a new diesel V6 engine, a turbocharged 220kW four-cylinder, and debuted an eight-speed automatic option, while bringing in several aluminium components.
The Grand Wagoneer will be Jeep's upper-luxury foray into Range Rover territory. Prices could be as high as $180,000 for this model as Jeep seeks to assert itself as the king of the off-roader brigade.
Styling is bold, with a cluster of LED's along the headlights reminiscent of the stars in the US flag. The rear lights continue a similar treatment in thin housings, flanked by a chrome applique as part of a split tailgate.
Grand Wagoneer was used before by Jeep between 1963 and 1991. It is driven by Skyler White in Breaking Bad and serves as the inspiration for the Simpsons' Canyonero SUV.