BMW has been spotted once again testing the upcoming X3, codenamed G01, around the Nurburgring. And this session it looks like it is being pushed very hard indeed.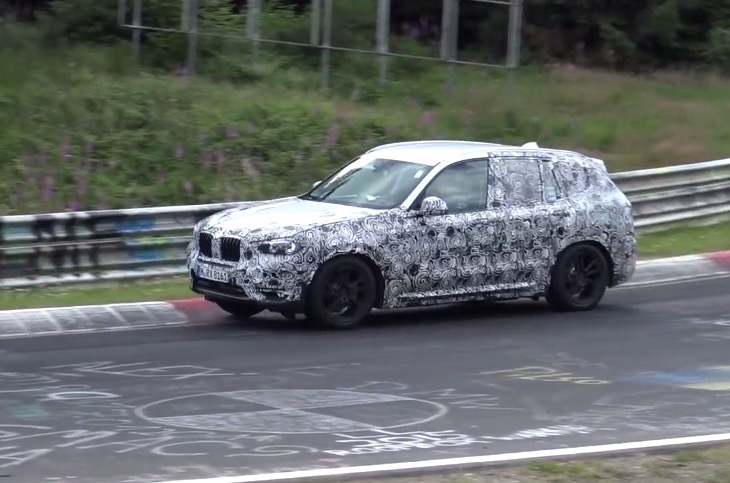 The current X3 has been around now since 2011 in essentially the same form. BMW appears to be taking testing of the next version very seriously, honing its track performance extensively – well, the Nurburgring more represents a mountain road than a circuit, but you get what we mean.
Prototypes have been spotted at the track numerous times over the past 12 months, in various form. We've seen mules that feature interesting exhaust notes and sporty highlights. These seem to suggest there will be a proper M version this time around, or at least an M Performance variant like the M240i and such.
At the moment the flagship X3 is the xDrive30d (in Australia), and this could hardly be considered as a sports variant like the Audi SQ5 or Mercedes GLC 43 AMG. This is expected to change for the next-gen model. An electric X3 has also been confirmed via a report, and could potentially come in as the first EV in the mid-size premium SUV segment.
No much is revealed in the latest spy video that we haven't already seen, and it looks like there is still plenty of black and white camouflage all over the body. However, underneath the camo is expected to be a similar design language as seen on the latest X1.
The high waistline and relatively bolstered wheel arches give it a more grown up look, while the front is likely to showcase BMW's new perched-up and peeled-back headlight design. Pointier kidney grilles are also likely.
A concept version could be revealed early next year with the production version set to debut in the later half. Check out the video below for a preview.