The Ford Edge 2.7 EcoBoost V6 could become one of the most powerful mainstream SUVs when it arrives in Australia, with impressive specifications revealed in US trim.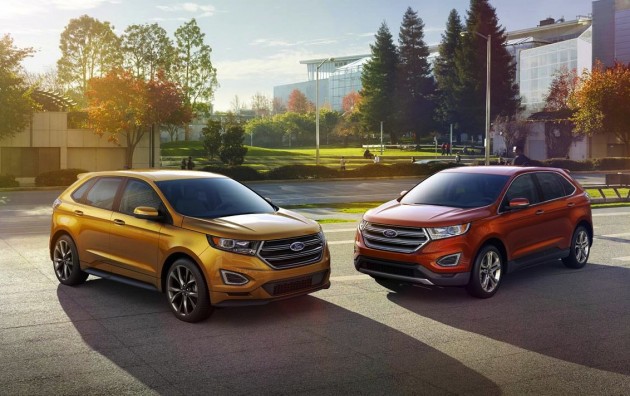 As we already know, the Ford Edge will eventually replace the Ford Territory when Australian Ford manufacturing closes down in under two years. The US company has now confirmed finer details on the 2.7-litre EcoBoost turbo V6 that will power the slightly sportier Edge Sport variant (pictured on left).
It will produce 235kW of power and 474Nm of torque, making it more powerful than the V6 versions of the Toyota Kluger (201kW), the Nissan Pathfinder (190kW), and the Jeep Grand Cherokee (210kW). All of these competitors use a naturally aspirated V6, whereas the Edge is turbocharged and produces a lot more torque.
In fact, the torque figure is significantly higher than all of the rivals, of which develop under 350Nm. Even the current Ford Territory can't compete with its 4.0-litre straight six, offering 195kW/391Nm.
As for economy though, the 2.7 V6 Edge offers a combined cycle fuel consumption of 11.2L/100km in front-wheel drive guise, and 11.7L/100km for the all-wheel drive variants. The best 4×4 average fuel economy of the four rivals mentioned above is the Pathfinder 4×4, delivering 10.2L/100km. Final Australian economy figures could be slightly different given that we run under the United Nations Economic Commission for Europe (UN ECE) Regulations method of measurement, which can be different to the US's EPA-based system.
Ford says the new V6 uses a special compacted graphite iron for the cylinder block, which is a technology taken from its 6.7-litre Power Stroke truck engine. This helps to provide a stiff and compact engine design, with refined noise and vibrations.
Also helping with noise, the Edge Sport comes with Active Noise Cancellation technology. It's made up of strategically-placed microphones throughout the cabin that help generate opposing sound waves through the audio system. Ford says it manages and enhances the sound of the EcoBoost V6.
For those not really interested in sheer power, Ford will also offer a 2.0-litre EcoBoost option for some variants (at least in the US). The 2.0-litre turbo produces 183kW and 339Nm. It offers a fuel economy average of 9.8L/100km in front-wheel drive form and 10.2L/100km in all-wheel drive form.
The Edge will eventually replace the Territory in Australia when local manufacturing closes in October, 2016. Ford Australia is yet to confirm local figures, however, we are likely to receive the 2.7 EcoBoost and the TDCi diesel version from Europe. Final specs might be slightly different for Aussie conditions but these US figures certainly look promising.