The Subaru Impreza 22B STi is a car we've all dreamt of owning. Let's face it, they are the ultimate 90's rally car and we've just found one is up for sale.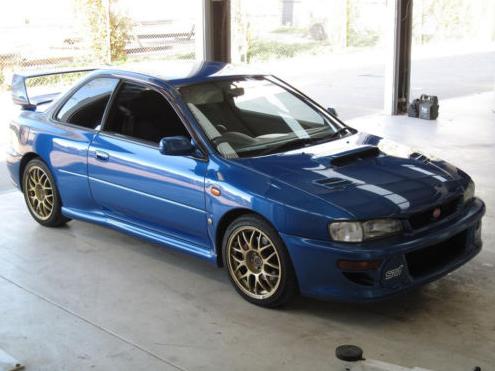 If they were good enough for Colin McRae, they're good enough for us. The Subaru Impreza 22B STi is the mack daddy of Imprezas. It's the fattest, meanest, and certainly was the fastest Subaru in its day.
The Subaru Impreza 22B STi was built to commemorate Subaru's 40th anniversary as well as their 3rd consecutive manufacturer's title in WRC. Just 399 were planned for production, however, an additional 25 were produced for certain markets.
Some reports suggest all examples on sale were sold out in around 30 minutes to 48 hours, making this example found right here in Australia up for sale pretty damn unique.
All Subaru Impreza 22Bs shared the first part of the VIN code (GC8E2SD), and were built from 03/98 to 08/98.
The Subaru Impreza 22B is equipped with an EJ22 (2.2-litre) engine, and was rated at 210kW (or 206kW to fit in with Japanese domestic market restrictions) and 363Nm, revving out to a 7000rpm redline. Compression was low at 8.0:1 so the VF23 turbocharger could work its magic.
The Subaru Impreza 22B STi only came in blue. Its pumped guards made the car some 80mm wider overall, for a total width of 1770mm. The car weighed in at 1270kg.
It featured high-end goodies such as Bilstein suspension, BBS Elektra wheels (17×8.5), and Pirelli P Zero rubber (235/40 ZR17). Brakes featured four-piston calipers on the front and two-piston calipers on the rear.
This 1998 car was imported for race/rally use, and can only have permit registration once it is log booked and inspected by the RTA (so the seller claims).
The car has government issued import approval, log books, and homologation papers from Subaru Japan. This Subaru Impreza 22B STi for sale carries the build number 46.
We found the car advertised on eBay for sale with a buy it now price of $50,000 – not a bad price considering how rare these cars are, providing it's in good condition.
Many of the genuine examples have now been either rallied, or raced, making clean examples hard to find – don't be tricked into a 'one owner car that's never seen the dirt' without lifting the carpet checking for roll cage weld marks.
If you'd like to make a bid on this genuine Subaru Impreza 22B STi for sale, just follow this eBay link to proceed to the advertisement.
Or if you'd like to see a video of the car running, follow this YouTube link for more details.