Audi has unveiled a revolutionary new shock absorber prototype that not only increases comfort, but also saves fuel.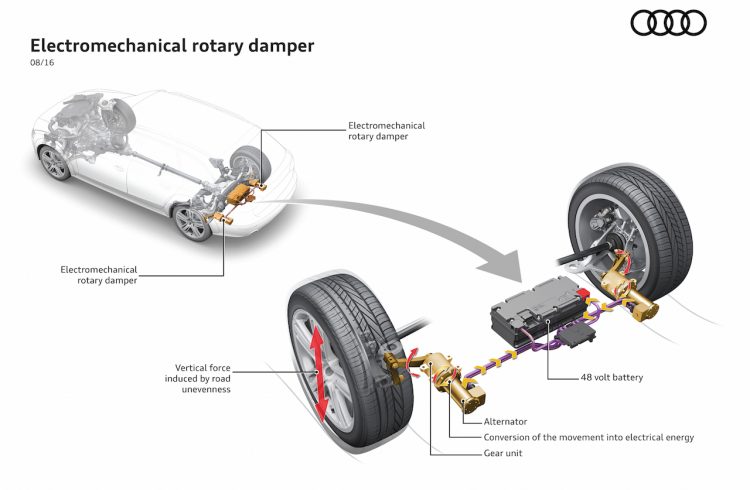 The design has been nicknamed "eROT" by Audi engineers, which throws out the traditional hydraulic damper  system in favour of a high-tech electromechanical rotary damper system.
While we love cars here at PerformanceDrive, however, we think Stefan Knirsch, Audi's board member for technical development, can sum up the system a lot better than us:
"Every pothole, every bump, every curve induces kinetic energy in the car. Today's dampers absorb this energy, which is lost in the form of heat. With the new electromechanical damper system in the 48-volt electrical system, we put this energy to use. It also presents us and our customers with entirely new possibilities for adjusting the suspension."
The major upside of the eROT system is that it can convert the kinetic energy, previously lost as heat, into electricity. This has been achieved through a clever lever arm that absorbs the motion of the wheel during compression and rebound and sends this via a number of gears into an electric motor.
During testing on German roads, Audi says the eROT system was able to recuperate on average between 100-150 Watts, with the system capturing around three watts on a smooth road, and up to 613 watts on a more rugged surface where the shock absorbers are moving a lot.
Audi says that under real-world driving conditions, customers could expect an emissions saving of up to three grams per 100km.
The eROT system utilises a 48-volt lithium-ion battery pack with a 0.5kWh capacity, producing a maximum 13kW, which is mounted at the axle. A DC converter connects the axle-mounted subsystem to the 12-volt primary electrical system.
Audi says another upside of the design is increased practicality due to the removal of vertical telescopic shock absorbers in favour of horizontal electric motors sitting at the rear axle, allowing for more boot space.
In terms of this technology reaching the public roads, according to Audi the "results of the eROT technology are promising, thus its use in future Audi production models is certainty plausible". However, Audi says:
"A prerequisite for this is the 48-volt electrical system, which is a central component of Audi's electrification strategy. In the next version planned for 2017, the 48-volt system will serve as the primary electrical system in a new Audi model and feed a high-performance mild hybrid drive. It will offer potential fuel savings of up to 0.7 liters per 100 kilometers."