After a four-seat Ferrari but don't think the Ferrari FF is special or exclusive enough? Perhaps this one-off 1980 Ferrari Pinin concept going up for auction on October 26 will tickle your fancy.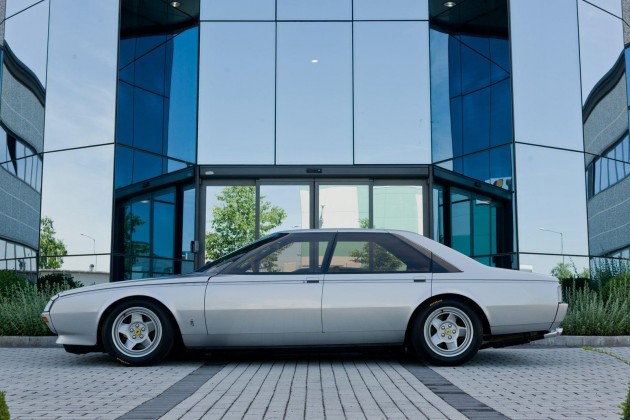 The 1980 Ferrari Pinin concept was created to celebrate the 50th anniversary of Italian designer Pininfarina. Pininfarina is the design studio responsible for loads of stunning Ferrari models, including the Ferrari 355, Ferrari F40, and the Ferrari Enzo, as well as plenty of other cars such as the Peugeot 306, Maserati GranTurismo, and the new Lancia Stratos.
This one-off Ferrari Pinin concept features a 5.0-litre V12 engine developing 268kW of power, making it not only the first ever four-door Ferrari, but also the first and only four-door V12 Ferrari. The only other Ferrari models that have come close to this setup are the Ferrari 400 and Ferrari 412 2+2 coupes and the current four-wheel drive Ferrari FF.
On the outside, the 1980 Ferrari Pinin concept presents a beautifully sleek sedan shape with unique multi-parabolic headlights, a clean flowing waistline from the bonnet and along the window sills through to the near rear end.
Inside, there's tan leather with a comfortably laid out centre console and dashboard, as well as a separate rear-seat entertainment system offering passengers their own radio and headphones.
This is one truly special retro Ferrari that would look good in anyone's garage. The Ferrari Pinin concept will go up for auction at the famous RM Auctions in London on October 26, where it is expected to fetch somewhere between £480,000 – £550,000 (approximately AU$).
Up to 11 other very special Ferrari classics will also go under the hammer on the day, including a 1958 Ferrari 250 GT LWB Tour de France s/n 1039 GT, expected to sell for over two million pounds, and a 1955 Ferrari 750 Monza Scaglietti Spyder, expected to sell for over 1.5 million pounds.
What do you think of this four-door 1980 Ferrari Pinin concept though? Elegant 1980s design?