Here at PerformanceDrive we are unashamed fans of the Datsun Z car range. So, if you're a Zed head like us, this little number from ADV.1 will leave you weak at the knees.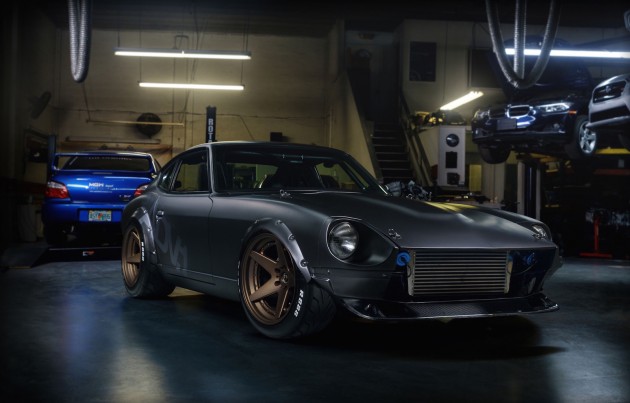 Starting out as an L28 2.8-litre Nissan straight-six-equipped iteration of the cult classic, this particular version now sports a Toyota Supra 2JZ-GTE engine conversion, stroked to 3.4 litres (from 3.0L). Sacrilege for some, who would no doubt prefer to see the hallowed RB Nissan straight-six installed instead. But, you can't argue with the result here.
With a Garrett GT42gtx ball-bearing turbo clinging to the side, this puppy dips into the 8-second quarter-mile range, with a best so far of 8.926 seconds at 258km/h. The unit spins out 825hp (615kW) with thanks to a 250hp nitrous system.
The engine is mated to a six-speed Getrag manual transmission, using a HKS twin-disc clutch. This sends power into a custom drive shaft, and into a modified R200 differential with high-strength axles and a five-stud hub conversion. The studs hold a set of 17-inch ADV.1 deep dish wheels measuring 10 inches wide on the front and 11 inches on the back.
To make sure it all handles the insane power, the 280Z has been given a Ground Control coilover suspension upgrade with KYB struts, Eibach springs and polyurethane bushes holding it all together. A set of 300mm front and 290mm rear Wilwood performance brakes complete the package.
Check out the video below showing how the 280Z performed on the dyno during the early stages of the build. And head over to the ADV.1 website for the detailed blog on the project.