Tesla has revealed a new Tesla Model S Beta edition of the upcoming medium-sized sports sedan to a group of Tesla customers in the US. The Beta version builds upon the Alpha Model S, and is the closest thing to the Model S the company plans to introduce into the market in 2012.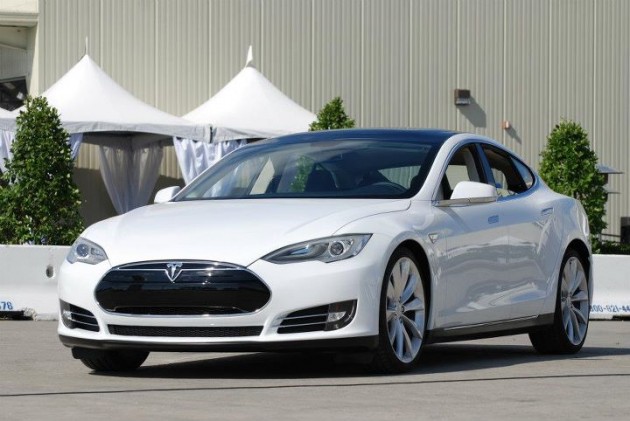 The Tesla Model S Beta is Tesla's electric answer to various sports sedans from carmakers such as BMW, Mercedes-Benz, and Audi. Although a concept Model S has already been revealed, this Beta version is said to feature trimmings and details very similar to what the eventual production version will offer.
The select group of Tesla customers were given exclusive up-close access to the new model at the company's Fremont facilities last weekend, and were given short test drives of the new model. On looks alone, the new Tesla Model S is set to be a stunner.
Under the bonnet, the Tesla Model S Beta features a fully electric powertrain comprising of a 85kWh liquid-cooled, 3 phase, 4-pole, copper rotor, AC induction motor powered by a lithium-ion battery pack. It offers 270kW of power and 415Nm of torque. Tesla says the system is capable of propelling the sleek sedan from 0-100km/h in 5.6 seconds.
Like the Tesla Roadster, the Tesla Model S Beta uses a straight-drive transmission setup sending power to the rear wheels. It provides a top speed of 210km/h. Tesla says the new sedan also has a full-charge combined city/highway range of 482km, making for not just a quick sedan, but also a convenient one. Optional 370km and 260km powertrain setups will also join the lineup.
Tesla is planning to produce around 5000 of the production version Model S sedans next year, with up to 6000 orders already being taken. It will go on sale initially in the US during mid-2012, with Australian pricing and specifications set to be released at around the same time. Tesla then has a goal to produce around 20,000 per year in and beyond 2013.
As for the price tag, the Tesla Model S is set to hit the market with prices starting at $57,400 (approximately AU$58,727 after a straight currency conversion, less local taxes etc.).
With those looks and that performance, the Model S is an electric vehicle worth getting excited about and is sure to sell very well indeed. What do you think of it? Would you like one, despite it being an electric car?
Click play on the video below for a demonstration of the new Tesla Model S Beta at the event, as previewed by engadget.com