Ferrari has been spotted testing an upcoming Ferrari 599 hybrid prototype. The prototype in question was dressed in a normal Ferrari 599 body but underneath was said to feature the company's all-new hybrid setup. The technology will debut on either the successor to the Ferrari 599 or as a next-gen Ferrari California hybrid.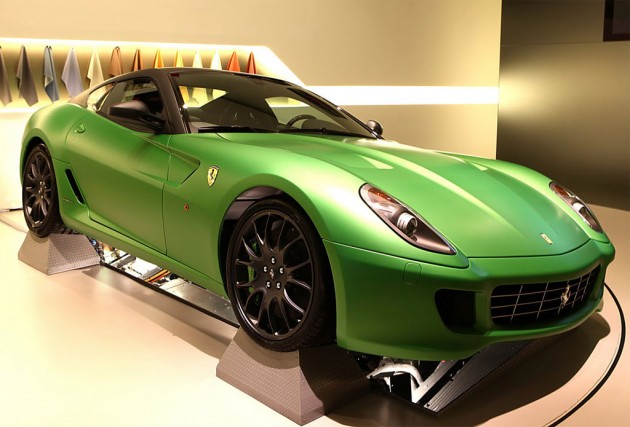 It's unclear at this point what model Ferrari will use for its new hybrid powertrain, according to international reports, Ferrari is looking to bring out the setup on either the new Ferrari 599 replacement or the next Ferrari California.
Ferrari has been talking about introducing a hybrid for a over a year now, and even unveiled a Ferrari 599 HY-KERS Concept last year at the Geneva Motor Show (pictured). Now it seems more details have leaked. Rumour has it the Ferrari hybrid will feature a new electric motor package developed in conjunction with Bosch.
It's quite interesting how investigations have come to this assumption. See, the prototype spied while undergoing road testing was wearing German number plates – Ferrari test cars usually only feature Italian plates. This means the car was first registered in Germany, more specifically, in Stuttgart, evident by the 'S' pre-fix on the plate. Stuttgart is renowned home territory for electrics big gun, Bosch.
Regardless of what company Ferrari will team with, Ferrari has already patented the idea for the upcoming hybrid layout. It consists of two separate electric motors, one mounted at the rear and one at the front. The front-mounted motor will power all of the car's electric features while in full-electric mode, while the much larger one at the rear will provide propulsion of up to 75kW. The batteries will then be spread across most of the floor, keeping the centre of gravity low.
Details about the petrol aspect of the hybrid setup are yet to be finalised.
Although a hybrid package does seem very unlike Ferrari, the company needs to reduce its overall emission levels in accordance with European Union laws. The company hopes to get overall average emission levels down to 240 grams of CO2/km, after last year's average of 310g/km.