BMW has unveiled the new 2013 BMW 7 Series grand sedan. Models include the 730i, 740i, 750i, 760i, and the 730d, 740d, and the new 750d xDrive with the company's new M Performance triple-turbo diesel engine.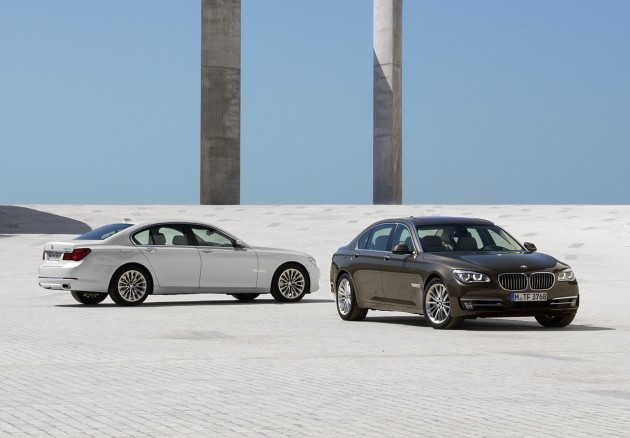 The 2013 BMW 7 Series showcases the latest design language to come from Bavarian Motor Werks, with new-look full LED headlights, pronounced kidney grilles, and a fuller rear end.
Inside sees the introduction of a new multifunction interface using 3D graphics, a 1200-watt Bang & Olufsen High End surround sound system, as well as a comprehensive rear seat entertainment package including a 9.2-inch flip-down LCD screen.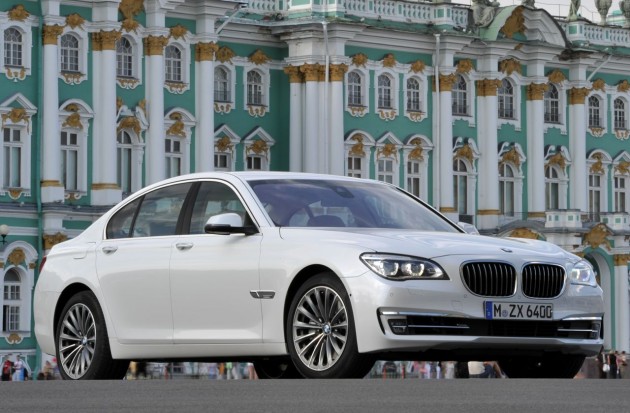 Like other new model BMWs, such as the (F30) 3 Series, the big 7er comes with Driving Experience Control with ECO PRO, Comfort, and Sport driving modes. Each mode alters throttle response, steering, and suspension settings according to your preferred driving style.
In terms of engines, BMW says fuel economy has been improved across the board, with fuel savings of up to 25 per cent over the outgoing model. Whether you prefer petrol or diesel or even a super-efficient hybrid powertrain, BMW has powerful options throughout the range.
The 2013 BMW 730i comes with a 3.0-litre naturally aspirated straight-six engine producing 190kW of power and 310Nm of torque. It's able to cover 0-100km/h in 7.4 seconds while offering an average fuel economy rating of 8.6L/100km.
Next up in the rank is the 2013 BMW 740i. It comes with the company's widely-used 3.0-litre turbocharged straight-six engine producing 235kW and 450Nm. It's able to sprint from 0-100km/h in just 5.7 seconds while offering an average fuel consumption rating of 7.9L/100km.
Stepping up another level is the 2013 BMW 750i. It's power by a 4.4-litre twin-turbo V8 producing a meaty 330kW of power and 650Nm of torque. It's able to smash 0-100km/h in just 4.8 seconds (almost supercar territory), while offering an average fuel consumption rating of 8.6L/100km.
Finally, if it's outright performance you're after there's the 2013 BMW 760i. It comes with a 6.0-litre twin-turbo V12 engine developing a colossal 400kW of power and 750Nm of tyre-churning torque. Acceleration from 0-100km/h can be handled in 4.6 seconds, while the fuel economy is rated at 12.9L/100km.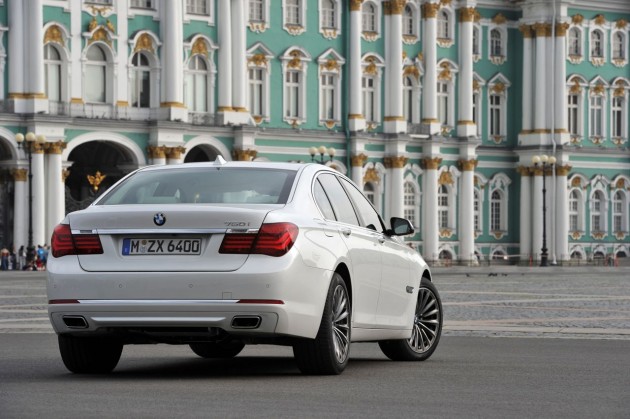 In the diesel lineup there's the 2013 BMW 730d xDrive featuring a 3.0-litre turbo-diesel producing 190kW and 560Nm, as well as the 2013 BMW 740d xDrive powered by a revised version of the same engine producing 230kW and 630Nm. They're able to cover 0-100km/h in 6.0 seconds and 5.4 seconds, respectively. Both come with a fuel economy rating of 6.0L/100km.
For the ultimate in diesel performance BMW has added the mighty M Performance 3.0-litre tri-turbo-diesel engine in to make the 2013 BMW 750d xDrive. It produces 280kW and 740Nm, and is able to cover 0-100km/h in 4.9 seconds while offering a combined cycle fuel consumption rating of just 6.4L/100km.
All diesel 'xDrive' versions come with an all-wheel drive system, while all 7 Series variants feature an eight-speed automatic transmission. All models are available in 'L' long wheelbase form as well.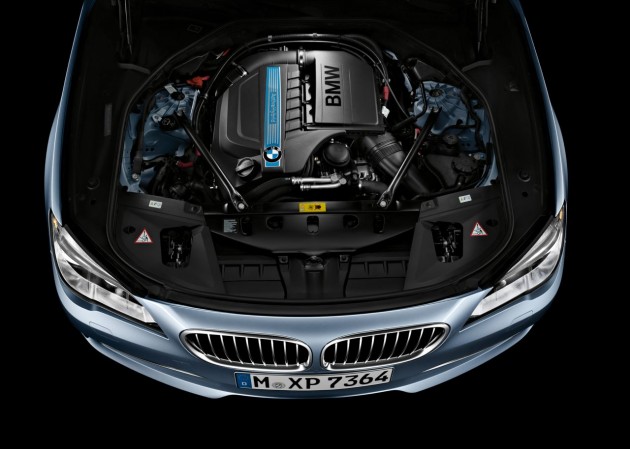 For the first time ever, BMW is offering the 7 Series as a hybrid, in the form of the 2013 BMW ActiveHybrid 7. It features the 3.0-litre turbocharged inline six-cylinder engine – as seen in the 740i – producing 235kW and 450Nm. An electric motor system provides an additional 40kW and 210Nm.
The ActiveHybrid 7 is fuel efficient, as you would expect, coming with a fuel economy rating of 6.8L/100km. Despite the economy, the ActiveHybrid 7 can crack 0-100km/h in a quick 5.7 seconds.
The new model is set to go on sale in international markets later this year. An official Australian release date and specifications are yet to be announced. We'll keep you updated though.