Nissan has gone all-out during this year's Super Bowl, revealing its latest Maxima road car, and now also introducing the world to its latest Le Mans racer, the GT-R LM Nismo.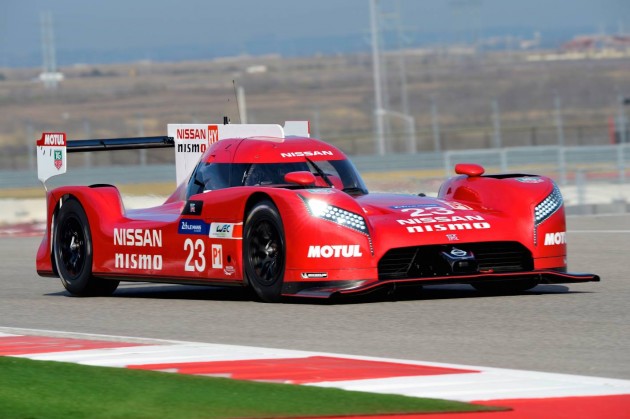 Described by Nissan as an "innovative new LM P1 racing car like no other Le Mans car", the GT-R LM features a front-engine, front-wheel drive layout, which is a bold move by Nismo.
Very few details are available at this stage, but the powerplant is a 3.0-litre twin-turbo V6, connected to a kinetic energy recovery system (KERS). Power is directed to the front wheels via a five-speed sequential transmission with a hydraulic limited-slip differential.
Weighing in at 880kg thanks to its carbon composite body panels and polycarbonate windscreen, the racer is set to stop on a dime thanks to six- and four-piston calipers. Nismo has also developed a brake-by-wire braking system, and specially made magnesium forged wheels. The entire car measures 4645mm in length, 1900mm in width and stands 1030mm tall.
Ready to compete in the FIA World Endurance Championship in the LM P1 class, this should be an interesting contender to keep an eye on. The championship kicks off in April at Silverstone and will take racers to the US, China, the Middle East, Japan, Spa, Nurburgring and of course, Le Mans in France.