It may not be the first Ferrari that comes to mind when someone mentions the exotic Italian marque, but a Ferrari 456 like this one up for sale is actually a pretty cool car. It features a chrome-gated six-speed manual transmission at the back and a singing V12 up front. What more could you want?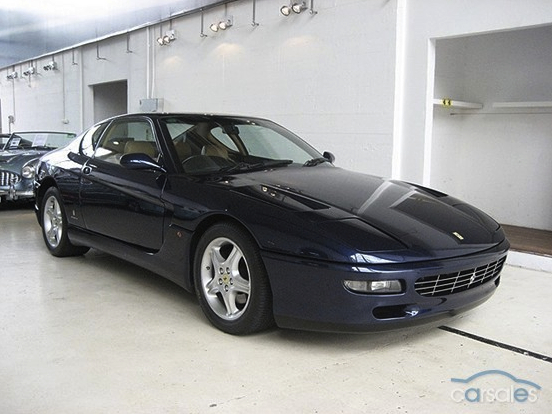 The Ferrari 456 was introduced in 1992, offering a well-proportioned body – that actually looks much more compact and more sporting in the flesh – with sprinkles of Pinifarina styling throughout, such as the brake heat extracting gill behind the front wheels and a chrome mesh grille in the lower front bumper bar. The rear of the 456 also features an integrated rear diffuser – quite an advance and uncommon technology back in its day.
We'd like to think that the 456 is a Ferrari that you could live with everyday. Four-seat Ferraris are a rare bread with the company only producing around one model per decade, if that. Since it does take the shape of a conventional coupe, it means there is a chance you could drive down the road without every motorist gawking at you. So it's got that sly factor to go with it as well.
This 1994 Ferrari 456 for sale is a prime example. It's a Le Mans blue six-speed manual version and it's in practically new original condition, with just 39,500km on the clock. It comes with cream leather and power everything (let's no forget this was a $488,000 car when new).
As for the performance, the Ferrari 456 5.5-litre V12 engine offers 325kW of power and 550Nm of torque. It's capable of doing the 0-100km/h dash in around 5.0 seconds and a quarter-mile in around 13.4 seconds. It may not be the fastest Fezza, but it wouldn't be hard to get it absolutely screaming with a decent exhaust setup and an ECU retune… if you're worried about that sort of thing. Heck, some tinted windows, possibly a new set of quality alloys and an adjustable suspension package would go down very nicely indeed too.
The owner/dealer is asking just $129,995 for this rare slice of Italian automotive history. Not bad for a fully-fledged V12 Ferrari. Head over to Carsales for more details and images.
For a bit of a preview on what the 456 goes and sounds like, you may remember this old video we found of Jeremy Clarkson showing an early 456 prototype being tested to destruction. Listen to that V12 sing.