Tesla Motors has announced a powerful new flagship version of the Model S called the Model S P85D, using dual electric motors and all-wheel drive.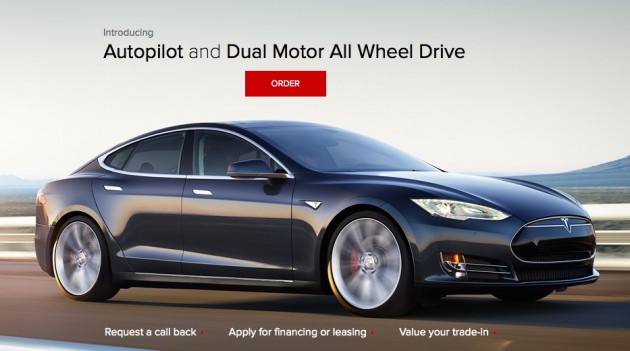 This is the first all-wheel drive Model S, and as you would expect, it offers plenty of power. The motor which turns the front wheels produces 157kW, while the rear motor produces 351kW. Combined, they offer a monumental 515kW and 930Nm.
Out on the tarmac the power translates to 0-100km/h in around 3.2 seconds (0-60mph), with a top speed of 250km/h. On the drag strip it can also cover the quarter mile in a cracking 11.8 seconds, which is quicker than a twin-turbo V8 BMW M5. This makes it (claimed) the quickest four-door sedan in the world.
Of course, the main element that we all want to know with electric vehicles is the range. With a fully charged battery the P85D is able to cover around 362km before it goes flat. Other variants with less of a performance focus offer a range of around 473km.
Tesla will be introducing three different variants of the new 'D' model family, including the 60D, 85D, and the range-topping P85D. The 60D uses a 60kWh battery with the other two using an 80kWh battery.
Aside from the impressive electric propulsion technology and performance, the new model showcases 'Autopilot' technology. As you can probably guess, this includes a range of systems which get as close to autonomous driving as possible.
There's 360-degree sonar and cameras, and forward radar sensors, all of which provide auto emergency braking capability, rear-end collision avoidance, and lane control with an auto lane-change function.
Check out the video below for a quick demonstration on how the trick systems work. As the image above suggests, which is a screen shot of the Tesla website, the new model will be available to order online soon.