Today we find a strapping example of a 2000 Lamborghini Diablo GTR for sale. It's one of only 32 ever made by Lamborghini (only 30 were planned) and it includes plenty of kit to suit track racing.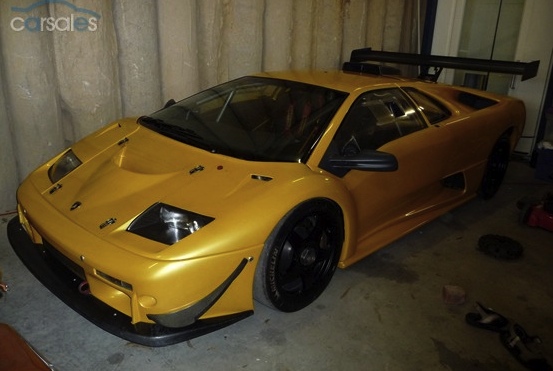 The Lamborghini Diablo GTR is a stripped out version of the Diablo GT. It comes with no air-condition, stereo or sound deading material, just a single racing driver's seat and sports MOMO steering wheel to keep weight to a minimum. The glass windows also made way for Plexiglass items. Overall weight is rated at 1395kg. A fire suppression kit and a six-point racing harness is also fitted to suit track regulations.
It's basically the most seriously-focused Diablo to ever go on sale. And it was all done from the factory. Lamborghini equipped the car with a full integrated roll cage, lightweight magnesium centerlock Speedline 18-inch wheels and even a full air-jack setup underneath the car.
As for the engine, the 6.0-litre naturally-aspirated V12 from the standard Diablo was turned up, quite a few notches. Lamborghini adapted 12 individual throttle bodies – providing the ultimate V12 induction howl – titanium conrods, and a recalibrated fuel and ignition setup.
All in all this is one hell of package. The car, in factory GTR form, develops a massive 440kW of thumping 12-cylinder power and 640Nm of torque. The mighty engine is connected up to a five-speed manual gearbox which sends power to only the rear wheels. This would make it an extremely fun handful on the track, although, it is fitted with a proper racing wing at the back that is connected directly to the chassis, providing plenty of downforce at speed.
The owner of this example says the car has won 22 races in Australia and says it has been serviced by Lamborghini Australia since day one. The owner also says there is now only 28 examples left in the world.
So, the asking price then? How about a cool million. Yes, the car is for sale (on carsales) for $1,000,000. It's the perfect price really, any less of a price would simply understate the magnificence.
To view the full ad simply click here.