Alfa Romeo has revealed the final version of the Alfa Romeo 4C two-seat sports car ahead of its official 2013 Geneva Motor Show unveiling next month. This is the first time the car has been shown in full production guise.
The main headlines for the all-new Alfa are very impressive. The 4C is inspired by the company's 8C sports car, only it's more compact, measuring under four metres in length, lighter in weight, and features a new 1750cc (1.75-litre) turbo four-cylinder engine.
One of the most unique features of the new 4C is the chassis which is made entirely of carbon fibre. This leaves not only an extremely rigid structure, but also a lightweight one. Alfa says the car offers a power-to-weight ratio of under "4kg:1hp". This figure is better than some of today's supercars.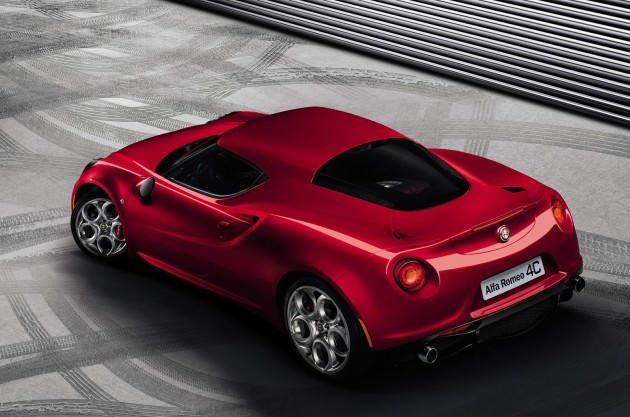 Alfa Romeo hasn't revealed all of the specifications yet, however, the engine is based on the one used in the current Quadrifoglio Verde version of the Giulietta. It's an all-aluminium unit featuring special intake and exhaust systems, as well as a lag-free turbocharger which adopts a scavenging control system.
The engine is backed up by an Alfa TCT twin-clutch automatic transmission, sending power to the rear wheels. There's also paddle shifters behind the steering wheel, and a four-mode driver setting called 'Alfa DNA', with Dynamic, Natural, All Weather, and Race settings.
Alfa Romeo recently spoke about the new model's production in an announcement for the car, saying,
"Designed by Alfa Romeo engineers and produced in the Maserati plant in Modena, the new compact supercar will be available for purchase in 2013, marking the return of the Italian brand to the United States and inaugurating Alfa Romeo's global growth plan."
The 4C is turning out to be a highly desirable driver's car, potentially tipping the scales at well under 1000kg. Matched with an engine which is speculated to produce 177kW, acceleration from 0-100km/h is expected to come up in around 4.5 seconds.
Timing for an Australian introduction hasn't been announced yet, but it is likely to take place at the end-2013/early-2014. We'll keep you updated.