Toyota Australia is launching the 2016 RAV4 SUV, which introduces a freshened up design inside and out, and a bunch of new features and technology.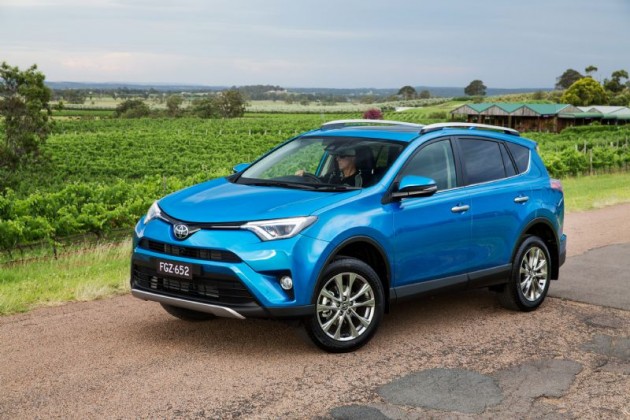 First up, the exterior design is immediately recognisable by the sleeker front end revealed earlier this year, and new front and rear bumper bars. Overall length has grown 35mm thanks to the new bumpers. New wheel arches and side skirting has been added, as well as LED projector headlights with LED daytime running lights and new LED taillights.
Three variants continue to be offered, ranging from the GX, GXL, to the flagship Cruiser. These are then split up into front- and all-wheel drive powertrains, with either a 2.0-litre petrol with 107kW, a 2.5-litre petrol with 132kW, or a 2.2-litre turbo-diesel with 110kW/340Nm.
Fuel economy averages span from 8.5L/100km in the case of the 2.5 AWD auto, and drop as low as 5.7L/100km for the AWD manual diesel.
In terms of towing capacities and cargo space, the AWD models can tow 800kg braked or 750kg unbraked, while the AWD petrol models offer 1500kg and 750kg, respectively. The diesel can tow 1200kg and 750kg. All models offer a 577-litre cargo area, or 506 litres with a full-size spare wheel.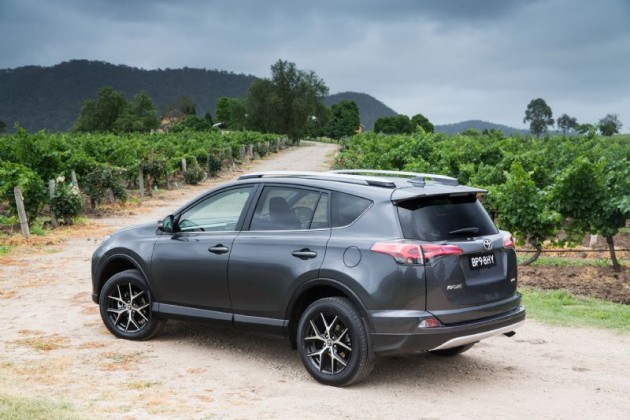 Toyota says the suspension tune has been updated for the 2016 model, with recalibrated dampers and springs for a flatter and more comfortable drive character with increased highway stability.
As for equipment changes, the GXL and Cruiser models get a new two-dial instrument cluster with a 4.2-inch TFT display in the middle. The Cruiser also comes with lane departure alert, cross-traffic alert, pre-collision safety technology, and dynamic cruise control. These are available as an option on the GXL. GXL models also get 18-inch wheels (up from 17), with the GX getting 17-inch steel wheels with eco tyres.
The new model is available at dealers now with prices starting from the following (excluding on-road costs):
2016 Toyota RAV4 GX manual 2WD 2.0L – $27,990
2016 Toyota RAV4 GX auto 2WD 2.0L – $29,990
2016 Toyota RAV4 GXL manual 2WD 2.0L – $31,990
2016 Toyota RAV4 GXL auto 2WD 2.0L – $33,990
2016 Toyota RAV4 GX auto 4WD 2.5L – $32,990
2016 Toyota RAV4 GXL auto 4WD 2.5L – $36,990
2016 Toyota RAV4 Cruiser auto 4WD 2.5L – $44,490
2016 Toyota RAV4 GX manual 4WD 2.2TD – $35,990
2016 Toyota RAV4 GX auto 4WD 2.2TD – $37,990
2016 Toyota RAV4 GXL manual 4WD 2.2TD – $39,990
2016 Toyota RAV4 GXL auto 4WD 2.2TD – $41,990
2016 Toyota RAV4 Cruiser auto 4WD 2.2TD – $49,490