A Ferrari Enzo successor is set to go on sale in 2012. The Ferrari 'F70' release date will come after the Ferrari 458 Spider, which will be unveiled next month, and at around the same time the company unveils a successor to the Ferrari 599 GTB Fiorano, half way through next year.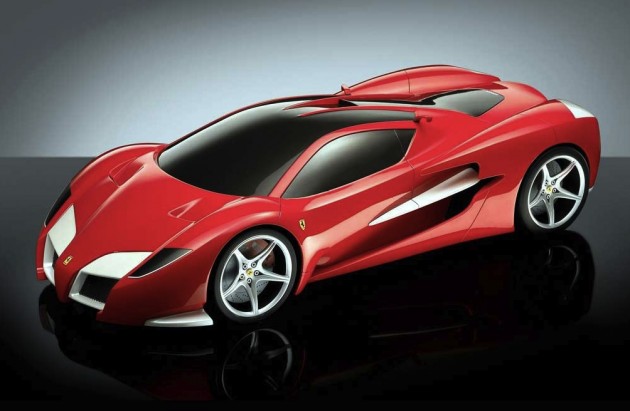 News of the next-generation anniversary model release date – a model run which originally started with the Ferrari F40 commemorating Ferrari's 40th anniversary in 1987 – comes from a report by Automotive News in the US.
The report says the next Ferrari Enzo will be made entirely of carbon fibre, keeping overall weight to a possible 1000kg, and be powered by a naturally-aspirated V12 engine, like the outgoing Enzo. One of the main differences with the new version's powerplant is said to be the introduction of fuel-saving technologies.
We learned last month that Ferrari is developing a hybrid system, but it is too early to tell if such a system will debut on the new Enzo or on the next Ferrari 599 as originally speculated. Whatever the technology consists of, it will trickle down into all of Ferrari's other more mainstream cars by 2020.
International reports earlier in the year also claimed that insider words were spread saying the Enzo successor would be built, specifically targeting the Bugatti Veyron. They said the new model would come with a twin-turbo V8 engine capable of pulling outlandish top speeds. However, these could be seen as simple rumours.
As for the looks of the new Enzo, it's amazing there's been no spy shots or insider images leaked of the 'F70', we can only speculate on design concepts such as the image above. One thing's for sure, it will be dramatic, low in profile and, like all Ferraris, full of passion.
Beyond the new Ferrari Enzo replacement, Ferrari also plans to introduce a Ferrari 458 Scuderia – a lightweight, track-focused 458 – and a new Ferrari California, both in 2013.
Look out for plenty of our 2011 Frankfurt Motor Show coverage in the meantime, including details on the unveiling of the Ferrari 458 Spider. The show starts on September 13.
Also check out:
– Video: Ferrari World Abu Dhabi theme park tour
– For Sale: Ferrari F40 LM-spec road legal