Ferrari has revealed the new 488 GTB, previously thought to be named the 458 M. It features a twin-turbo V8 for the first time, and is more powerful than ever.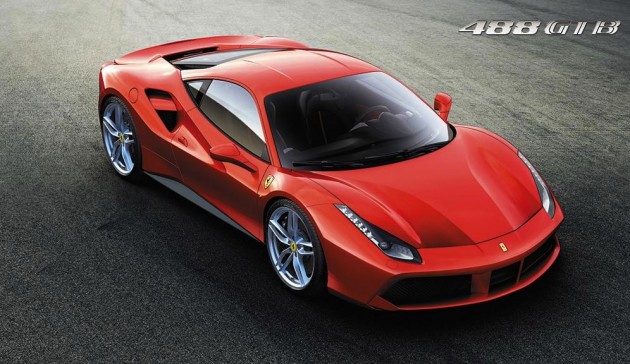 Nestled behind the driver is a 3.9-litre twin-turbo V8 producing a colossal 492kW of power and 760Nm of torque. It's matched up to a seven-speed dual-clutch auto as usual, but it's now capable of clocking 0-100km/h in just 3.0 seconds (down from 3.4). Despite the performance, fuel consumption drops from 13.3L/100km in the 458 to just 11.4L/100km in the GTB.
While the drivetrain is the similar to the outgoing layout, the transmission has been revised and now features a variable torque management system which can release the engine's torque smoothly and progressively across the entire rev range, Ferrari says.
Another element that had to be changed was the exhaust system. Turbochargers inherently muffle engine sounds so Ferrari redesigned the system so that it creates a "full, clear, and totally distinctive" soundtrack.
Aside from the mechanical stuff, the 488 GTB essentially becomes the MY2015 458. In that respect, it has been given a healthy makeover in the design department. The front end features a larger intake with an F1-like divider, and a new lower spoiler lip with neat little extensions in the corners.
At the back it's very similar to the regular 458. There are a set of new LED taillights though, a blown spoiler and active elements to increase overall downforce by 50 per cent. Under the car there are special vortex generators and new aero features too. Ferrari explains a bit about the overall dynamics of the new model, saying,
"The Ferrari 488 GTB's subsystems and electronic controls make its power and performance instantly available and controllable. It is, in fact, the most responsive production model there is, with razor-sharp response times comparable to those of a track car."
Taking a look inside and you can see Ferrari has administered some updates, including a new sat-nav control cluster, angled air vents, and a new instrument panel. Ferrari says the graphics and interface of the infotainment unit have also been completely overhauled. See below for the full specifications. It will go on sale later this year.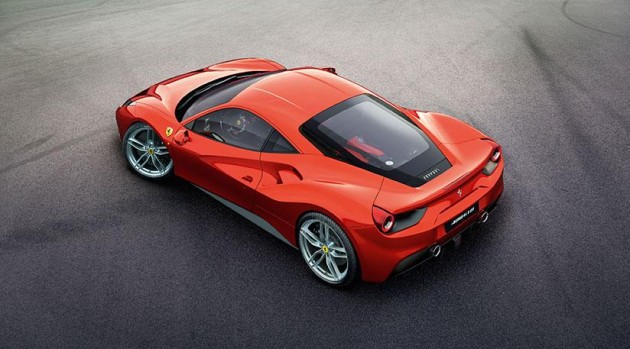 Ferrari 488 GTB
Technical specifications
ENGINE
Type: V8 – 90° Turbo
Overall displacement: 3902 cm3
Maximum power: 492 kW (670 CV) at 8000 rpm
Maximum torque: 760 Nm at 3000 rpm in VII gear
DIMENSIONS AND WEIGHT
Length: 4568 mm
Width: 1952 mm
Height: 1213 mm
Dry weight: 1370 kg
Weight distribution: 46.5:53.5 front-rear
PERFORMANCE
0-100km/h: 3.0 seconds
0 -200km/h: 8.3 seconds
Maximum speed: Over 330 km/h
FUEL CONSUMPTION
11.4L/100 km
C02 EMISSIONS
260 g/km