Toyota has revealed an all-new concept SUV at the Los Angeles auto show, called the FT-AC. This is the concept that was previewed a couple of weeks ago.
Described as the next step in Toyota's line of adventure-loving concept vehicles, the FT-AC is a brash and versatile proposal with proper off-road capability. As Toyota says, the concept allows a "deeper exploration to take life's journeys even further".
Some of the design details include a wide and thick front grille with bright LED headlights, detachable fog lights that can be mounted to a mountain bike, with twin tow hooks for recovery. There's also skid plates underneath, chunky all-terrain tyres on 20-inch wheels, with bulging wheel arches, and an adjustable roof rack.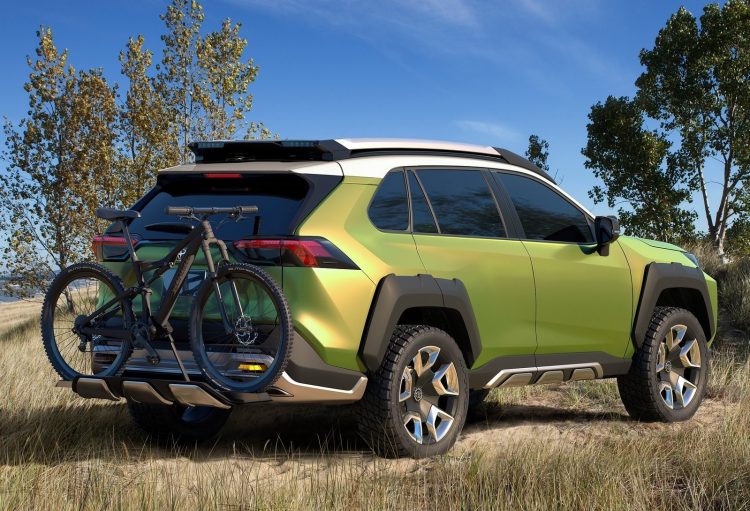 There's also rear-facing LED lights for night time camping and so on. These can be controlled via a mobile device. Meanwhile an integrated bike rack at the rear makes life easier when loading and unloading, and there's geolocation capability for sharp direction guidance. In a statement, Toyota said:
"FT-AC reminds adventurers of all skill levels how remarkable the trip – not just the destination – can be. Going for a paddle on the river. Climbing a favourite rock face. Hitting a trail on a mountain bike. FT-AC is experience-centric. It compels. Any wheel time in FT-AC brings genuine facetime with the friends aboard."
There's no mention of the powertrain specifics, however, it does use a petrol engine with advanced torque vectoring all-wheel drive. There's also a terrain response system with four-wheel locking for maximum traction. Toyota says the concept could also offer a next-gen hybrid system to help with its future-thinking and real-world practicality approach. No word on whether this beast will inspire a production car as yet, but we'll keep you updated.