Do you have a few enemies? Not satisfied with five-star ANCAP safety? This might be your vehicle. It's called the Dartz Black Shark and it's bulletproof, featuring fingerprint recognition and a 1500hp engine.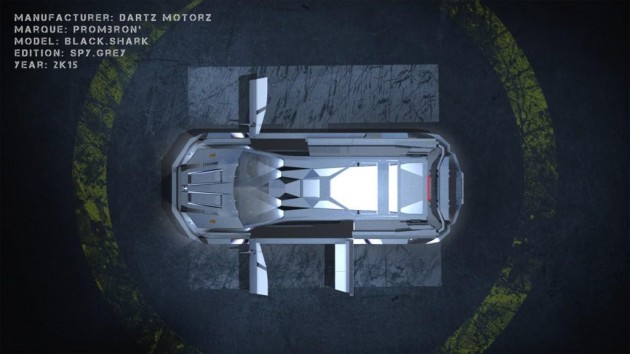 You wouldn't pick it, but this outlandish beast of a car is actually based on the Mercedes-Benz GL 63 AMG. Most of the original foundations are modified, and all of the body is completely customised so it can withstand gunfire and explosive forces.
Each panel is made from super high-strength Kevlar-titanium which not only sounds exotic, it's actually very strong. By the looks of this teaser image though, it doesn't appear to be an attractive body by any means, featuring lots of extra chunks protruding from the skin.
It's not all heavy-duty either. There's heaps of 007-type technology here. To get inside the Black Shark you need the special diamond-covered Vertu smart phone which gains preliminary access. You then need to pass the fingerprint scan on the door handle. If your fingerprint is wrong, the door handle sends out an electric shock and retracts out of sight. Even if you get past it, you'll need to pass the eye retina scan.
Linking up to the smart phone allows users to constantly monitor the state of their Black Shark no matter where they are. It sends through various details on its condition and status, including tyre pressures if one so desires.
As for the power, it comes courtesy of a Mercedes AMG twin-turbo V8 or twin-turbo V12 engine, with power outputs spanning up to 1120kW (1500hp), depending on the customer's orders. There's no word on the kerb weight, but we're pretty sure 1120kW should be enough to provide decent acceleration.
Dartz Motorz is a Latvian-based car company that specialises in armoured vehicles like this. Full details of the Black Shark, its latest model, will be announced on October 19.