Nissan Australia is introducing a new turbo-diesel variant of the recently-updated X-Trail range. It's available in front-wheel and all-wheel drive forms, offering superior fuel economy over any other variant.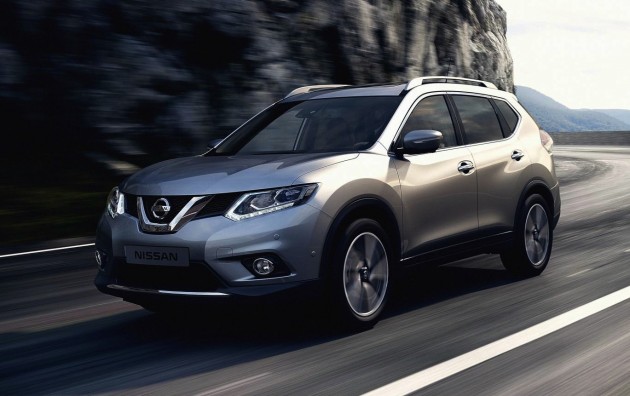 Starting with the range lineup, the turbo-diesel X-Trail comes in TS and TL forms in both two-wheel drive and all-wheel drive. Front-wheel drive versions come standard with an Xtronic CVT auto while the 4×4 versions get a six-speed manual.
As for the engine, the 'R9M' unit has been developed via the Renault-Nissan alliance. It's a 1.6-litre four-cylinder (replacing the 2.0 dCi), producing 96kW of power and 320Nm of torque. Fuel economy is exceptional, with a combined cycle rating of just 5.3L/100km.
Aside from the excellent fuel economy, engineers have managed to drop 30kg thanks to the new engine compared with the 2.0 dCi. And that's despite featuring technologies such as a variable displacement sump, a Swirl Control valve, stop-start, and a low pressure exhaust gas recirculation system.
Like the rest of the new X-Trail range, the body has been designed to be aerodynamic and efficient so it cuts through the air with minimal friction, with an underfloor spoiler system, aero-friendly door mirrors, and special covers for the exhaust and rear apron. It's also designed to the tune of Nissan's current styling language, fitting in with the rest of the SUV family.
If you're a keen camper or boating enthusiast, the diesel X-Trail is an ideal tow vehicle. It offers a 2000kg braked towing capacity for the 4WD versions, and 1500kg braked towing capacity for the 2WD models. This means it is certified to tow light to medium-size caravans and boats.
So far this year the X-Trail has been the local arm's best-selling model, and the 4th best in the segment. With the diesel on board now the sales are expected to climb even further, getting closer to the market leaders (Mazda CX-5 and Toyota RAV4).
See below for the full price list (excluding on-road costs), and head over to our full Nissan X-Trail review and video for more info on the poplar SUV.

2WD
2014 Nissan X-Trail ST 2.0L manual – $27,990
2014 Nissan X-Trail ST 2.5L Xtronic – $30,490
2014 Nissan X-Trail ST 2.5L Xtronic 7-seat – $31,490
2014 Nissan X-Trail ST-L 2.5L Xtronic – $36,590
2014 Nissan X-Trail ST-L 2.5L Xtronic 7-seat – $37,590
2014 Nissan X-Trail TS 1.6L diesel Xtronic – $35,380
2014 Nissan X-Trail TL 1.6L diesel Xtronic – $46,280
4WD
2014 Nissan X-Trail ST 2.5L Xtronic – $33,980
2014 Nissan X-Trail ST-L 2.5L Xtronic – $39,490
2014 Nissan X-Trail Ti 2.5L Xtronic – $45,190
2014 Nissan X-Trail TS 1.6L diesel manual – $35,680
2014 Nissan X-Trail TL 1.6L diesel manual – $46,580