The 2012 Ford Kuga Trend is easily the best-sounding compact SUV on sale at the moment. Its 2.5-litre five-cylinder turbo engine is derived from the grin-inducing Ford Focus RS's power source, while the jumped up body allows you to have some fun off road.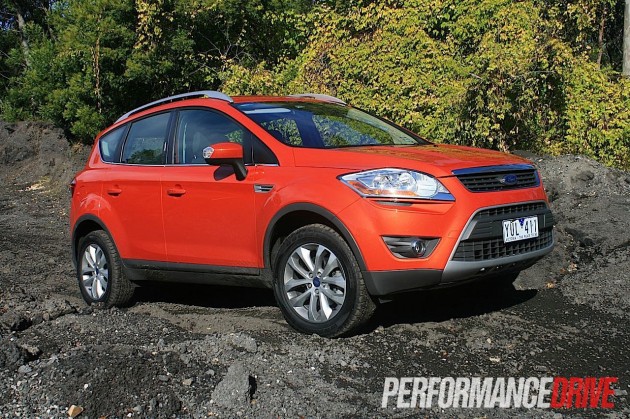 2012 FORD KUGA TREND – PROS AND CONS
PROS:
Lots of torque from down low in the rev range
'Fun' styling and user-friendliness
Engine sound
Plenty of tuning avenues you could go down – sleeper?
CONS:
Fuel consumption quite bad for this segment
Pedals too high, almost feels like a van
Interior design can be a bit too much to take in, and a bit dated in some areas
2012 FORD KUGA TREND – OVERVIEW
Better late than never. Ford has finally entered one of the most popular and competitive markets with the compact Ford Kuga SUV. Not to be confused with the short lived Ford Cougar coupe of the late 90s, the Kuga is Ford Australia's attempt to hone in on the segment, which, last month, made up 8.8 per cent of the total new vehicle market. Interestingly though, the model Australia gets has been out in Europe since 2008, albeit with a facelift in 2010.
In Australia, the Kuga is only available in two relatively high-end forms, the Trend (as tested) and the Titanium. Both feature the same turbo petrol engine – there's no diesel option. Ford will be introducing more variants with the next-generation model further down the track, and has used this model as a bit of an introductory.
If you're thinking it's a jumped up Ford Focus, then you'd be right. The Kuga is based on the previous generation Focus platform. Both the Trend and Titanium are all-wheel drive though, and only come equipped with a five-speed automatic transmission.
Prices start at $38,990 for the Trend, and $44,990 for the Titanium.
2012 FORD KUGA TREND – ACCOMMODATION AND EQUIPMENT
The feature list is a tad lacking in this Trend version, compared with its aggressively kitted rivals. There's no auto climate control air-conditioning – a surprise in a vehicle with this starting price – and there is also limited storage compartments, and no rear air vents.
Fortunately, there are a few unique little touches that help to redeem the Kuga's appeal, such as the convenient and trendy down lights under the side mirrors that light up the ground for you; the handy two-stage tailgate/boot (glass and tailgate can be opened separately); keyless start; 17-inch alloys; voice control; and a beautifully crisp Sony sound system, with integrated Bluetooth and USB input.
The standout of the interior we would have to say is the sound system. It's brilliant, providing not only full-bodied clarity with finely tuned bass and treble, it also does a great job of enhancing the overall fun cabin environment.
It might be a compact and sporty SUV, in the back though there is enough room to pack enough equipment for a decent weekend getaway. With the rear seats in the upright position there is 360 litres of cargo space, while with the seats folded down there's 1355 litres.
This compares well against the Subaru XV (310L/1200L), but not so well against the Volkswagen Tiguan (395L/1510L) and Toyota RAV4 (540L/unspecified).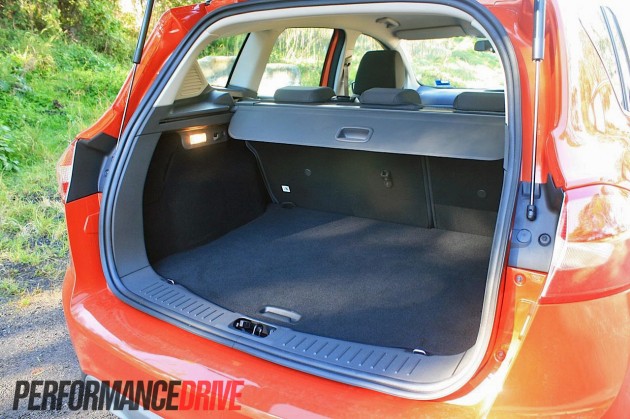 Some interesting optional accessories that Ford provides for the Kuga include a 15-litre fridge, a waterproof cargo mat, and a portable Garmin satellite navigation unit. There's even a fire extinguisher and first aid kit on option, giving you a hint of its 'active lifestyle' personality and target market.
Stainless steel scuff plates for the front doors are also optional, with 'Kuga' etched into them. These illuminate when the door is open, giving off a cool welcoming glow – a feature usually only seen on the most premium of luxury cars.
2012 FORD KUGA TREND – DESIGN AND SAFETY
The exterior has been developed using Ford's previous 'kinetic' design philosophy. It's a funky layout, with loads of characteristics still used on current and yet-to-be announced Ford models, particularly around the headlights and front grille.
The body features a chunky bodykit with bumper bar extensions front and rear, and colour-coded side mirrors and contrasting silver highlights. There's even a neat little roof spoiler mounted on the tailgate, as well as a bit of a diffuser underneath.
Upon first impressions, you can't tell it's a Focus underneath, but you do get the gist going by its proportions. All panels, lights and trimmings are completely different on the outside, while inside some old stuff is carried over, such as the rotary switchgear and various toggles and buttons.
Safety features include six airbags, electronic traction and stability control with Rollover Mitigation, brake force distribution, and an emergency brake hazard light. Parking sensors are fitted as standard to the flagship Titanium, but not on the Trend.
2012 FORD KUGA TREND – ON THE ROAD
Behind the wheel, the five-cylinder Duratec turbo engine has plenty of thump and a fantastic soundtrack to match. With 147kW and 320Nm, the Kuga pulls away effortlessly, even up steep hills. We timed 0-100km/h in 7.9 seconds, which is brisk for this segment.
We feel the engine does lack a little in top end, with the most interesting stuff all available from low in the rev range – up to 320Nm of pulling power is on offer from as low as 1600rpm to 4000rpm. Once you swing the tacho to around 5000rpm, it feels like anything after is simply for that sweet five-cylinder sound.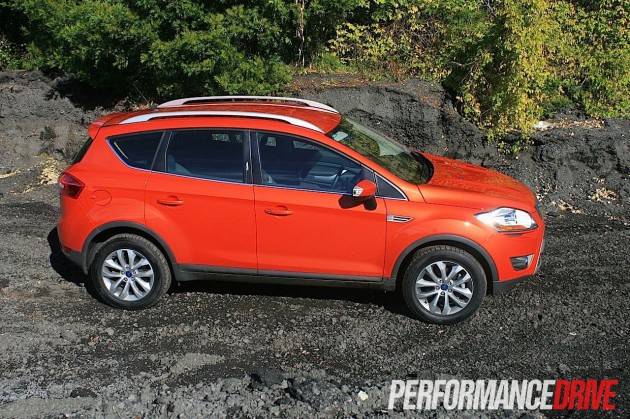 Unfortunately, this engine is a rather thirsty one. Our test average of 10.9L/100km is a major pitfall amongst very frugal competitors. A six-speed transmission could have improved the economy, as well as stop-start – you find yourself scratching your head over some aspects, especially when looking at the price tag.
The five-speed auto is quite slow at shifting, and, at times, indecisive. Using the sports shift mode, the Kuga does feel sporty, but again, the shift isn't as direct as more modern transmission types.
In true meaning of a soft roader, the balance of being able to handle like a sports car and having a duty of going off the beaten track, and onto a beaten track, the Kuga is proficient. The larger than norm ground clearance doesn't intrude on the poised handling ability.
An aspect that does let the handling down somewhat is the off-road-oriented tyres. Of course, you can simply swap these to suit the conditions you encounter the majority of the time.
2012 FORD KUGA TREND – OFF THE ROAD

We didn't tackle really difficult off-road terrain, as it's not what the Kuga all about. Even so, we purposely tried to get it bogged in various situations but the Kuga pulled through. This is thanks to the Haldex constant all-wheel drive system.
In normal conditions, 90 per cent of the engine's power is distributed to the front wheels, however, when there is slip, up to 50 per cent is sent to the rear wheels. We found the system to be more than acceptable for this segment.
The ground clearance of 195mm is not bad, however, it's the short front and rear overhangs, or lack of, that play a larger part in its off-road performance and playfulness.
It's a fun little vehicle the Kuga, and it feels as if it is always ready to play when it comes to all-terrain exploring. And since it is petite, you can nip your way through, under, and over all kinds of moderately technical situations.
2012 FORD KUGA TREND – VERDICT
Overall, the (sort of) new Ford Kuga is yet another attractive addition to the fierce soft roader market. Even though it has a strong engine, a decent size boot, and eye-catching looks, it is let down by the hefty fuel consumption, and a lack of features, comparatively speaking.
The new model due out in the first half of next year might be more up to speed in the unforgiving market. The upshot of this is you might be able to work a nice deal at your local Ford dealer, with options and accessories and so on.
2012 FORD KUGA TREND – THE COMPETITORS
Volkswagen Tiguan 132TSI – 2.0-litre turbo petrol four-cylinder, 132kW/280Nm – 1626kg (DSG auto) – $35,990
One of the most popular contenders in the class, the Tiguan is a robust, dependable and economical compact SUV, with a range of great engines.
Mazda CX-5 Maxx Sport – 2.0-litre petrol four-cylinder, 113kW/198Nm – 1543kg (six-speed auto) – $36,040
Currently the leader in this segment, the CX-5 was an instant success the moment it was launched earlier this year. It's available in petrol and turbo-diesel form.

Toyota RAV4 Cruiser – 2.4-litre naturally aspirated four-cylinder, 125kW/224Nm – 1555kg (four-speed auto) – $38,990
The RAV4; the dependable and reliable option from Toyota. Excellent performance from the V6. Off-road tech developed with decades of pedigree. It's the third most-popular in this segment, behind the CX-5 and Nissan X-Trail.

Subaru XV 2.0i-S – 2.0-litre naturally aspirated boxer four-cylinder, 110kW/196Nm – 1420kg – $36,990 (CVT)
Based on the popular and highly regarded Impreza, the XV is an attractive tough-guy version on a jumped up chassis. Slightly down on power compared with the rivals.

2012 FORD KUGA TREND – SPECIFICATIONS
MODEL
2012 Ford Kuga Trend
ENGINE
2.5-litre turbo petrol five-cylinder
ENGINE SIZE  / COMPRESSION RATIO
2521cc / 9.0:1
BORE X STROKE
83mm x 93.2mm
POWER
147kW@6000rpm, 320Nm@1600rpm
POWER TO WEIGHT RATIO
11.2: 1 (kg:kW)
KERB WEIGHT
1653kg
HEIGHT / WIDTH / LENGTH
1710mm / 1842mm / 4443mm
DRIVETRAIN
Six-speed auto transmission, all-wheel drive
BRAKES
F: Ventilated discs
R: Discs
WHEELS / TYRES
F and R: 17 x 7.5-inch, 235/55 R17
FUEL TANK CAPACITY
66 litres
FUEL TYPE
E10 suitable
FUEL CONSUMPTION
Tested average: 10.9L/100km
Official average: 10.3L/100km
PERFORMANCE
0-100km/h: 7.9 seconds (tested)
PRICED FROM
$38,990
WARRANTY
Three-year/100,000km