One of the most hotly-anticipated new car releases of this year, the all-new F48 2016 BMW X1 has been premiered by BMW today.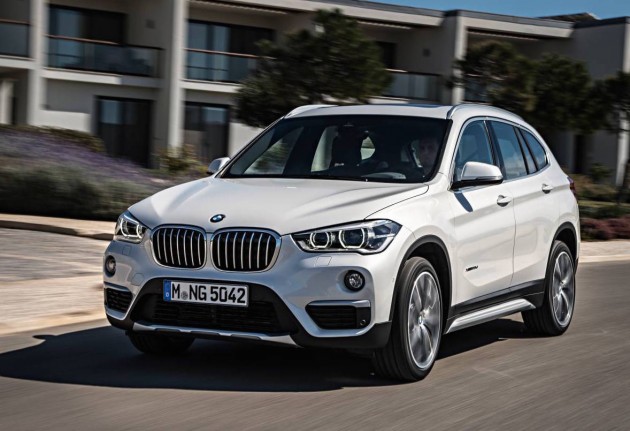 It is the second BMW to use the UKL front-wheel drive platform, after the 2 Series Active/Gran Tourer, and the first example of an existing model migrating to a front-wheel drive layout. This means the F48 swaps the hydraulic-power steering of its predecessor for an electro-mechanical unit.
Switching to the new UKL platform makes the X1 cheaper to manufacture, as well as making the car lighter weight and more practical and spacious inside. The new X1, at 4439mm long, 1821mm wide and 1598mm tall, is 36mm shorter, 21mm wider and 53mm taller than the outgoing model overall.
There's an extra 90mm added to the wheelbase, yielding 37mm more rear kneeroom, or 66mm with an optional tilting and sliding rear seat. The boot is 85 litres larger than before. You also sit higher in the new model, with 36mm and 64mm higher seating in the front and rear, respectively.
The new X1 is hustled along with a suite of B48 four-cylinder turbo-petrol engines, and B47 four-cylinder diesel engines. Both are 2.0 litres in capacity, in various states of tune. Power outputs range from 110kW to 170kW, while consumption is as low as an astonishing 4.1L/100km to 6.4 L/100km. The B38 1.5-litre three-cylinder turbo may join the lineup later on, but BMW is yet to make official announcements.
Power will be channelled through either a six-speed manual or an eight-speed automatic gearbox. BMW says a new, lighter version AWD system features on xDrive models, while sDrive models will be front-wheel drive.
New features for the X1 include head-up display, and Driving Assistant Plus, which includes active cruise control, Stop and Go function, lane departure warning, Traffic Jam assistant, and City Braking Assistant.
Rumours of M Performance and plug-in hybrid versions of the X1 are already circulating. If true, these will surface some time down the track . The F48 X1 will go on sale internationally in October of this year, with no official word on when Austrlaian deliveries begin at this stage.