Images depicting the new 2016 Mazda CX-9 large SUV have surfaced online, believed to be taken from an official in-house brochure of some kind.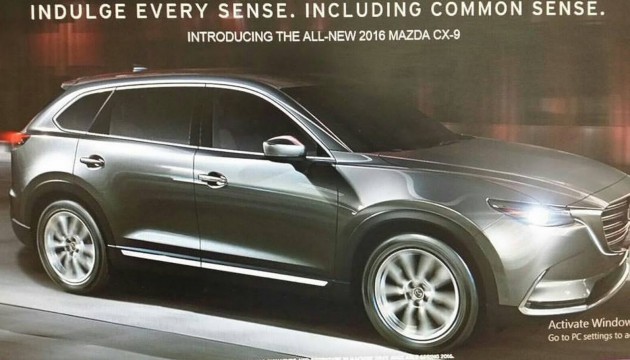 Mazda is planning to unveil the new CX-9 at the Los Angeles Auto Show this week, showcasing an all-new design borrowing from the company's "Kodo" styling philosophy.
As you can see by these images, first appearing on carscoops, the new CX-9 is getting a sharper front end and grille layout, slimline headlights, and a more curvaceous body especially around the wheel arch areas.
Inside has been modernised substantially over the current model. The dash is more futuristic with multiple sections dividing it all up, a stand-alone LCD interface sitting at the top, and a sportier three-spoke steering wheel for the driver.
The images also show a seven-seat cabin layout, with two in the very back and two in the front. It also looks like Mazda is amping up the luxury in the cabin too, with finer quality materials and upper-class tones and colour schemes.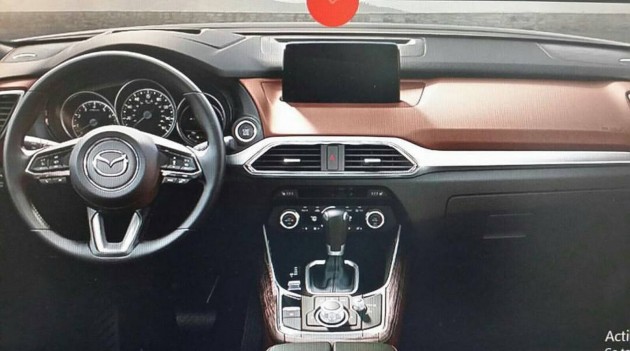 Powertrain details are still under tight wraps at this stage. According to reports there is a new 2.5-litre turbo-petrol on the way, and potentially a revised version of the current 3.7-litre V6. SkyActiv technologies will help to improve the model's thirsty reputation.
All is expected to be revealed any moment now, with the LA event kicking off on November 19. Stay tuned.