Imagine rocking up to your local track day in this. It's a replica of the Cummings Napier Railton racing car of 1933 and it will be on show at the 2011 Goodwood Festival of Speed this weekend.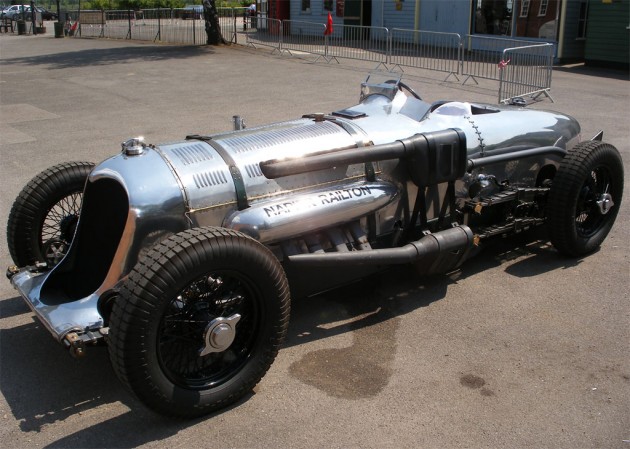 Modelled on the original Cummins Napier Railton of the Thirties, the car features a Napier Lion XI engine, a proud and noble piece of equipment no doubt, with an internal combustion capacity of 24 litres. It's actually a 12-cylinder gasoline airplane engine, taken from First World War aircraft.
You wouldn't expect layers of think technology glue holding this thing together, as that is not what this car is all about. It does, however, feature double overhead camshafts with four valves per cylinder. It also fires each of the 12 cylinders using a twin sparkplug ignition setup.
The massive unit sends 395kW (530hp) of power down through those skinny rear wheels. Judging by the specifications, the engine doesn't scream about its power so much though, it more likely goes for that angry, low down roar, as it only requires 2350rpm to reach full power.
In its heyday, the original Cummins Napier Railton posted the 24 hour record on the famous Bonneville Salt Flats in 1936, with a speed of 242.5km/h (150.6mph). The classic Cummins now resides at the Brooklands Museum in Surrey, UK.
As mentioned, a recreation of this mighty beast will be attending the 2011 Goodwood Festival of Speed this year, which kicks off on July 1. It's unknown whether or not the car will be given the beans up the Goodwood Estate hill climb course. We hope so. Imagine the sound of that 24-litre 12-cylinder pounding away.