Chrysler has updated its very popular 3.6-litre naturally aspirated Pentastar V6 petrol engine, bringing improvements in efficiency and output.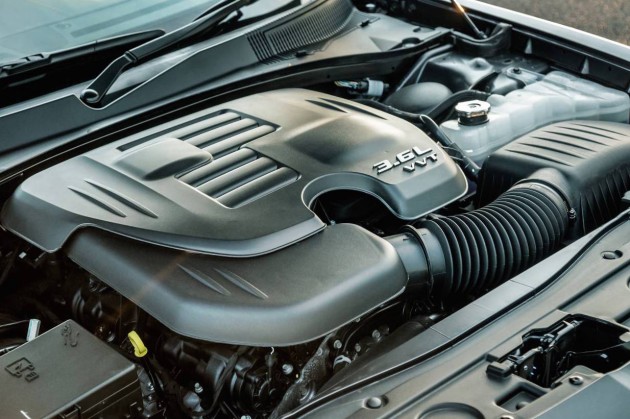 The 3.6-litre Pentastar V6 is used in many Chrysler and Jeep vehicles, including the Wrangler, Grand Cherokee, and Chrysler 300 sedan. It has always been a powerful unit but in our opinion it is a bit thirsty and lacks low-down torque. Until now.
Chrysler is promising a 6.0 per cent improvement in fuel economy for the new unit. This has been achieved via a number of component changes. There is now a two-step variable valve lift (VVL) system which allows low-lift mode during most conditions, but under high demands it switches to high-lift mode. This alone accounts for a 2.7 per cent improvement in economy.
A new cooled exhaust-gas re-circulation device has been fitted up to deliver improved efficiency, and, according to Chrysler, to provide knock-free operation under higher loads.
Other changes include an upgraded variable valve timing system (VVT), an increased compression ratio from 10.2:1 to 11.3:1, a new intake manifold with longer runners to increase torque, eight-hole fuel injectors, and some redesigned components to reduce weight. Depending on the vehicle model, there is also a 14.9 per cent increase in torque at engine speeds below 3000rpm. Specific output figures for specific models are yet to be announced.
The company says that more than 4.7 million custom-equivalent miles (7.5 million km) have been completed during testing of the new unit to ensure consistency in the real world. Bob Lee, FCA North America vice president for engine, powertrain and electrified propulsion, said,
"With more than five million Pentastars on the road, we have clearly struck a chord in the marketplace. Such success brings enormous responsibility. Accordingly, we focused our efforts on improving efficiency and providing greater customer satisfaction in a package that delivers superior value."
The updated engine will start to roll out in showroom vehicles for model year 2016.