Caterham has revealed its new most powerful road car ever, the Seven 620R, just ahead of its debut at the 2013 Goodwood Festival of Speed. The insane new model replaces the 196kW R500.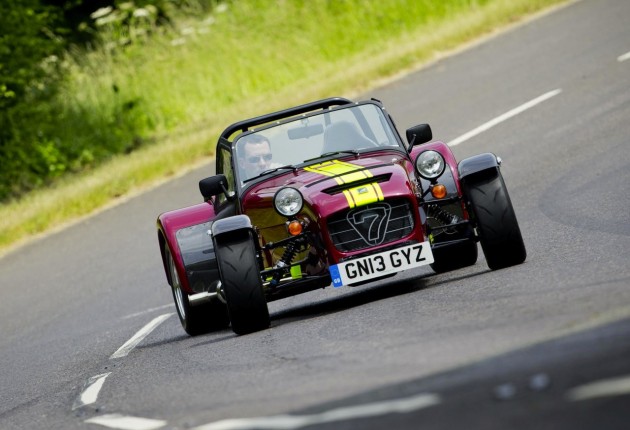 Featuring an angry little 2.0-litre Ford Duratec supercharged four-cylinder engine, the track-ready road rocket develops 232kW of power and 296Nm of torque. Peak power is reached at a screaming 7700rpm.
As you can imagine, with this amount of power in the lightweight the power-to-weight ratio is the main focus here. Acceleration from 0-100km/h can be dispatched in around 2.8 seconds (0-60mph), making it not only quicker than the R500 predecessor, but also one of the quickest road legal cars on the planet. The top speed is also out at an impressive 250km/h.
Graham Macdonald, Caterham Cars CEO, recently spoke about the 620R's mental performance, saying,
"The 620R is the most hardcore production Seven ever built for the road. The R500 claimed its place in motoring history as a benchmark for lightweight sportscar performance but this new vehicle pushes the boundaries even further.

"While I wouldn't necessarily recommend this car for those inexperienced in driving Caterhams, we always ensure that even our fastest cars retain the manageable delivery of power that makes them accessible, despite the daunting statistics."
Riding on a unique gunmetal chassis, the suspension is made up of a De Dion rear setup and wide track front layout, with performance dampers at all four corners.
Some parts of the body have been aerodynamically formed to further assist with speed and stability, such as the new nose cone. A set of 13-inch lightweight alloy wheels complete the package, wearing Avon ZZR tyres.
Inside, it's all down to business. There are carbon fibre panels, a race-like instrument cluster and switchgear, and a Q/R racing steering wheel.
The mind-blowing car will make its public debut driving debut at Goodwood, taking part in the famous hill climb event with Caterham F1 Team driver Charles Pic behind the wheel. The Festival takes place this weekend.