Holden has announced a minor model and interior technology update for the 2014 Holden Cruze, with the flagship SRi-V variant now coming with satellite navigation as standard. The system is incorporated into the on-board MyLink interface, and was developed alongside the system used in the new VF Commodore.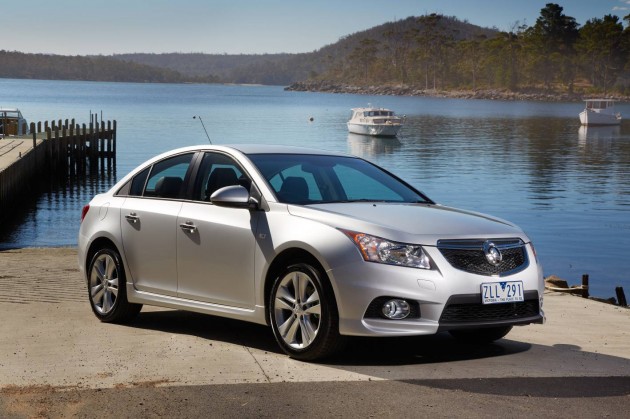 The new interface includes not only sat-nav, but also a new voice control system which is capable of reading out text messages while on the go. Holden says the voice recognition unit has been tuned for Australian accents for smooth usability, and offers Siri eyes-free technology for iPhone users.
The technologies were first made available on the VF Commodore, but have been in the pipeline for the Cruze since the 2014 model launch in March. Philip Brook, executive director of sales and marketing, recently said,
"At the time of launch we promised we would add navigation back to the range-topping SRi-V model as soon as we were able. The system has been introduced to VF Commodore which enables us to put it into production for Cruze as well.

"Through the development of the MyLink system in VF Commodore, we're also able to add Australian-tuned voice recognition across the entire line up, adding world-class voice control functionality to the already-impressive MyLink in-car entertainment system."
The voice control system allows users to change songs on the stereo unit, toggle the navigation, dial phone numbers, and tune the Pandora music player interface, all through the steering wheel-mounted push-to-talk button.
As for the sat-nav, it's operated via touch-screen and showcases 3D and 2D maps, on-screen and audio route guidance, edit and detour trip stage functions, as well as point of interest and trip simulator features.
Additionally, the minor model update also sees the introduction of three new exterior paint colours; Regal Peacock (dark green), Fantale (orange) and Prussian Steel (grey). The colours also debuted on the VF Commodore.
Pricing for the full range is as follows (excluding on-road costs):
2014 Holden Cruze Equipe 1.8L manual – $19,490
2014 Holden Cruze Equipe 1.8L auto – $21,690
2014 Holden Cruze Equipe 1.4L auto – $23,190
2014 Holden Cruze Equipe 2.0L auto – $25,690
2014 Holden Cruze CDX 1.8L auto – $24,190
2014 Holden Cruze CDX 2.0L auto – $28,190
2014 Holden Cruze SRi 1.6L manual – $22,490
2014 Holden Cruze SRi 1.6L auto – $24,690
2014 Holden Cruze SRi-V 1.6L manual  – $26,490
2014 Holden Cruze SRi-V 1.6L auto – $28,690