As previewed earlier in the week, the Kia CUB concept has been unveiled at the New York Auto Show currently underway. The funky little four-door has been created under Peter Schreyer, Kia's president of design.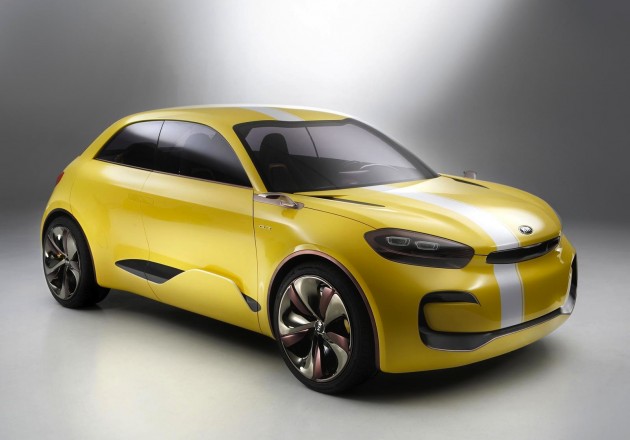 Featuring a four-door coupe layout with reverse-swinging rear doors, the CUB takes on a sporty and very modern theme, especially inside where it is filled with cutting edge technologies. The cabin showcases a Driving Information System (DIS) controller which uses a camera to interpret gestures, while atop the dash sits a multimedia LCD interface.
The rest of the interior including the dash fascia, a design itself which has been inspired by the eyes of a wild animal, features touch-sensor air vents, and a black leather trim with various yellow and silver highlights. Thomas Oh, senior executive vice president and COO at Kia Motors Corporation, recently said,
"The new Kia CUB is a compact, four-door coupe created with a clear focus on driving performance and practicality. Styled to appeal to trend-setting urban dwellers, the CUB features a comfortable four-seater cabin which generates an emotional, feel-good response and delivers everyday, real-world benefits."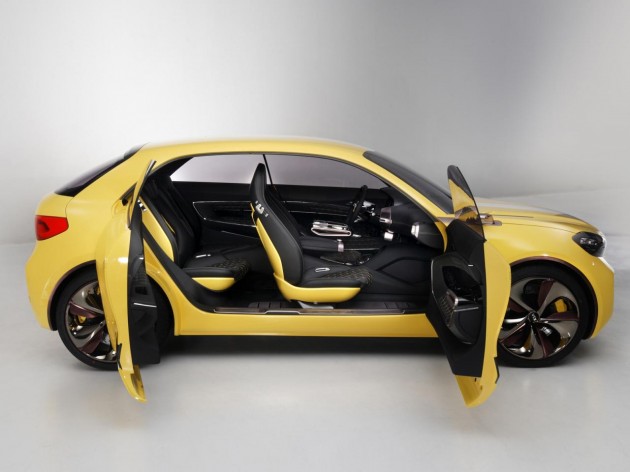 On the outside, the CUB is distinguished by the futuristic bubbly styling. There's also 19-inch alloy wheels, LED lights front and rear, flush automatic touch-type door handles, and extremely slimline side mirrors/cameras for maximum aerodynamic efficiency.
Under the bonnet the CUB gets the company's 1.6-litre direct injected turbo four-cylinder, also seen in the new Koup SX and the Veloster SR Turbo. It produces 150kW of power and 265Nm of torque, and is capable of propelling the CUB from 0-100km/h in 7.7 seconds.
It's certainly an interesting design and one that could eventually inspire a future sports car using a similar layout in the future. Specifically though, Kia says it has no plans to put the CUB into production.