BMW has unveiled the M Performance Automobiles lineup, including the BMW M550d xDrive all-wheel drive 5 Series, and the BMW X5 and X6 M50d. They feature a new triple-turbo diesel six-cylinder engine. This is the first time ever BMW M has produced a diesel model.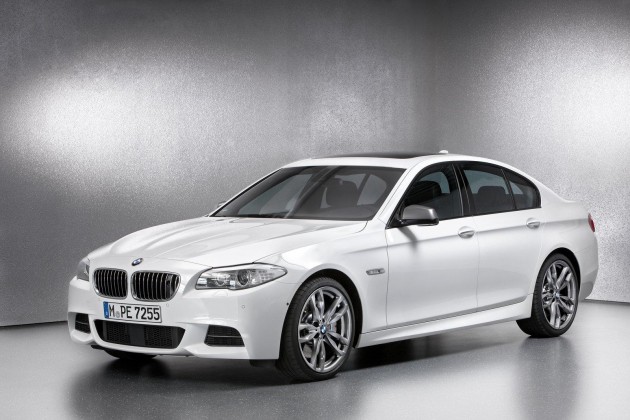 Yes, earlier speculations were correct. BMW's performance M Division is introducing a new engine based on the 3.0-cylinder straight-six diesel, featuring a tri-turbo setup. This is a really exciting step for diesel, especially as it produces a proper sportscar-like 280kW of power and a tyre-tearing 740Nm of torque.
Maximum power is available from 4000-4400rpm, while maximum torque is available from just 2000rpm to 3000rpm. The engine will be available in the BMW X5 M50d, the BMW X6 M50d, and the BMW M550d xDrive 5 Series sedan and wagon. All will be backed up by an eight-speed Sports automatic transmission.
Acceleration-wise, starting with the new 5 Series, the new engine in the BMW M550d sedan smashes 0-100km/h in just 4.7 seconds. This puts it on par with a Porsche 911, in terms of acceleration, and will make it the quickest diesel to hit the market (unfortunately, BMW Australia hasn't announced plans for the 5 Series xDrive).
Next up on the performance front is the new BMW M550d xDrive Touring (wagon). It's able to crack 0-100km/h in 4.9 seconds. The BMW X5 M50d comes in third, at 5.3 seconds, and then the BMW X6 M50d, capable of clocking it in 5.4 seconds.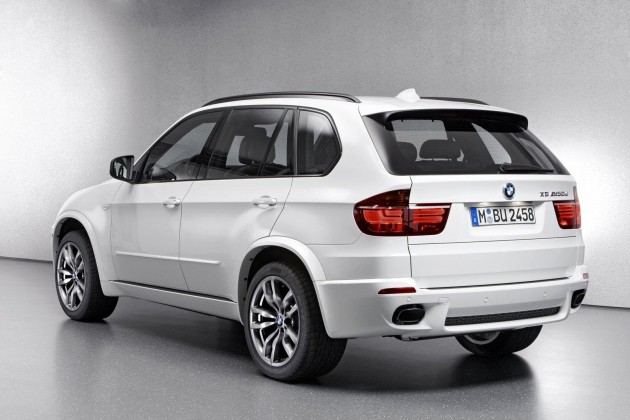 BMW M says the engine comprises of two relatively small turbochargers, and one large one. These have been optimised to provide excellent response off the mark, as well as plenty of boost up in the rev range.
One of the other main points of BMW M creating the tri-turbo diesel unit was to provide maximum performance while at the same time maintaining great fuel efficiency. The BMW M550d comes with an average fuel consumption rating of just 6.3L/100km on the EU test cylce. This is an incredible figure for the power and performance.
The BMW X5 M50d has an average rating of 7.5L/100km, while the X6 M50d offers 7.7L/100km. Remarkably, the X5 M50d fuel consumption rating is just 0.1L/100km up from the current BMW X5 xDrive30d (7.4L/100km), which comes with a derivative of the same engine producing only 180kW/540Nm.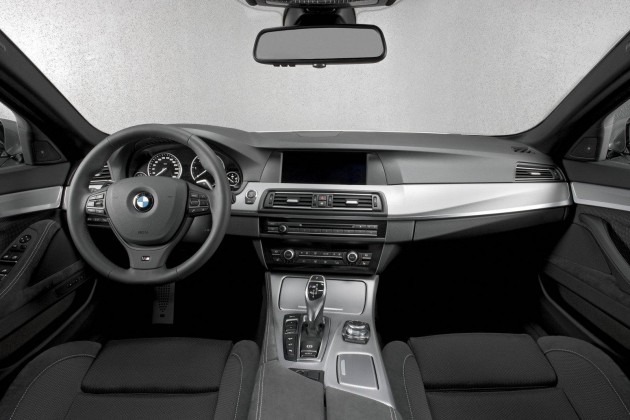 Like M Sport options currently available, the BMW M Performance lineup comes with a range of cosmetic and sporty mechanical revisions over the normal BMW lineup.
Mechanical highlights include sports suspension, BMW's xDrive all-wheel drive system which is biased to feeding torque to the rear, 19-inch and 20-inch alloy wheel options, dark venting intakes for the intercooler at the front, and dark trapezoidal exhaust pipes.
The exterior also gets a bespoke M bodykit, including aggressive front and rear bumper bars, and matching side skirts. There's also a pair of metallic grey side mirrors to further distinguish the M Performance Automobile models.
Inside, it is easy to tell these vehicles are more sporting than their conventional-variant counterparts. There's 'M' touches throughout, such as subtly styled M sports seats featuring the trademark three colours, an M shift knob, M sports steering wheel, M scuff plates, and an M instrument cluster.
BMW Australia will introduce the BMW X5 M50d and X6 M50d some time during the middle of this year. Pricing hasn't been finalised, but we can expect figures somewhere in between the respective top-shelf X5 and X6, and their M counterparts:
X5 xDrive50i $134,000 and X5 M $177,800
X6 xDrive50i$149,000 and X6 M $185,000
Unfortunately, the 5 Series M550d probably won't make it to local shores any time soon, as it is currently only planned to be built in left-hand drive form.
All models will make an official debut at the 2012 Geneva Motor Show in March.