Mazda Australia has confirmed preliminary details for the local lineup of the all-new 2016 CX-9 seven-seat SUV. Buyers will be able to select between four variants grades, including front-wheel drive and all-wheel drive.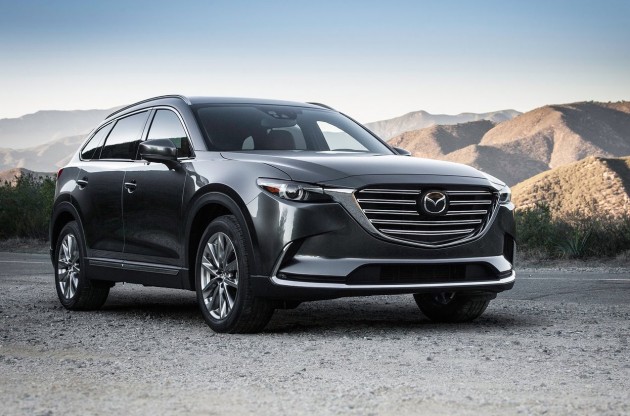 The new model lineup will span from the entry-level Sport, mid-level Touring, sporty GT, and the new flagship Azami. This lineup sequence follows in the footsteps set by the CX-3 and CX-5, not used with the outgoing CX-9 which has been around in virtually the same form since 2010.
As previously reported the new CX-9 comes with an all-new 2.5-litre turbocharged petrol four-cylinder engine producing 170kW and 420Nm. It uses i-ELOOP and i-stop technology, offering a combined cycle fuel consumption of 8.4L/100km for the front-drive versions and 8.8L/100km for the AWD models.
These stats compare favourably with the outgoing model, which features a naturally aspirated 3.7-litre V6 churning out 204kW but only 367Nm. In AWD guise it consumes a ridiculous 11.2L/100km, or, more than a 423kW twin-turbo V8 BMW M5 (9.9L/100km) on the same test cycle.
Mazda confirms each of the four variant grades will be offered with the FWD and AWD option, giving buyers a wide variety throughout different price ranges. Mazda Australia marketing director Alastair Doak said:
"This is the most comprehensive Mazda CX-9 range ever. Four grades in both front and all-wheel drive, this brings the Mazda CX-9 range in line with the four distinct grades that we offer on Mazda CX-5 and Mazda CX-3. Both of which have proved to be very appealing to Australian car buyers."
The 2016 Mazda CX-9 will go on sale in Australia later this year. Prices are yet to be finalised.