When the 2015 Ford Falcon arrives later this year it will boast reduced fuel consumption over the outgoing FG model with up to nine per cent improvements for the 4.0-litre base model, according to Ford.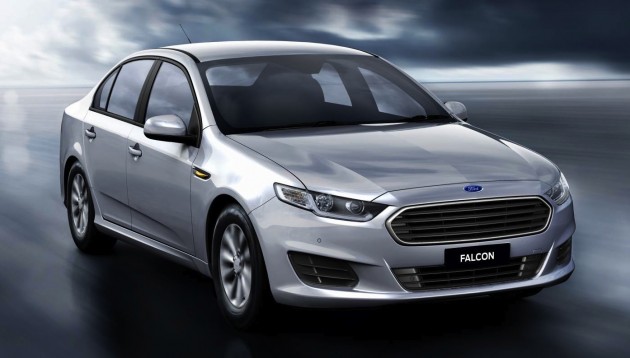 Average fuel economy drops from the current 9.9L/100km to 9.0L/100km for the base model 4.0-litre naturally aspirated inline six. While the sporty XR6 automatic and luxury focused G6E drops, using the same 195kW engine, from 9.9L/100km to 9.5.
Most of the efficiency benefits are put down to the new ZF 6HP21 six-speed automatic transmission (replacing the current 6HP26 – still used in turbo models) which is lighter weight compared with the existing six-speed. Changes to the bodywork have also provided aerodynamic benefits, while the base model gets 16-inch Michelin low rolling-resistant tyres to further boost economy. David Wilkinson, Falcon and Territory vehicle line director, said,
"This is a significant story for our customers. Achieving good fuel efficiency in modern cars is inherently more challenging because of added weight from contributing things like extra features and added safety equipment.

"The extensive use of high-strength light-weight steels in the 2014 Falcon helps but the further refinement of the I6 petrol engine is testament to the continual process of improvement being done here at Ford."
Aside from the fuel savings, Ford Australia has also administered some suspension revisions to improve the driving experience without taking away Falcon's somewhat renowned ride comfort. The base model gets a modified version of the FG MkII G6 suspension setting, while the EcoLPi gets the XR6 EcoLPi setting.
Specifically, the entry model gets a larger front stabiliser bar (31mm to 32mm), smaller rear stabiliser bar (18mm to 14mm), retuned front and rear springs and dampers, and adjusted geometry to suit the Michelin eco tyres. Wilkinson said,
"In the case of the Falcon sedan, we actually ended up staying with the G6 springs and dampers as they best suited the low rolling resistance Michelin tyres. But we still reviewed the tune as part of the on-going testing program to find the right mix for the customer."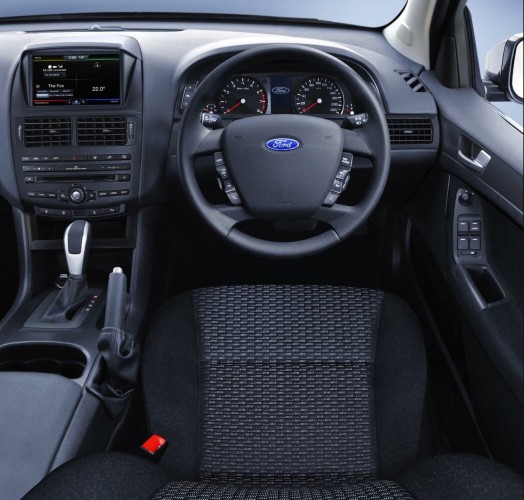 Ford has also revealed the new-look interior for the first time, showcasing the SYNC2 touch-screen interface. It's set to be a vast improvement on the clunky command centre currently in place.
The Ford Falcon will go on sale next month. 2015 Falcon prices can be seen in our previous report. See below for economy ratings (bold specs are unchanged from current FG MKII):
See below for 2015 Ford Falcon gear ratios: