This is it. The all-new, first-ever BMW M5 Competition. It comes in as the company's most powerful vehicle, and one of the fastest four-door sedans on the market.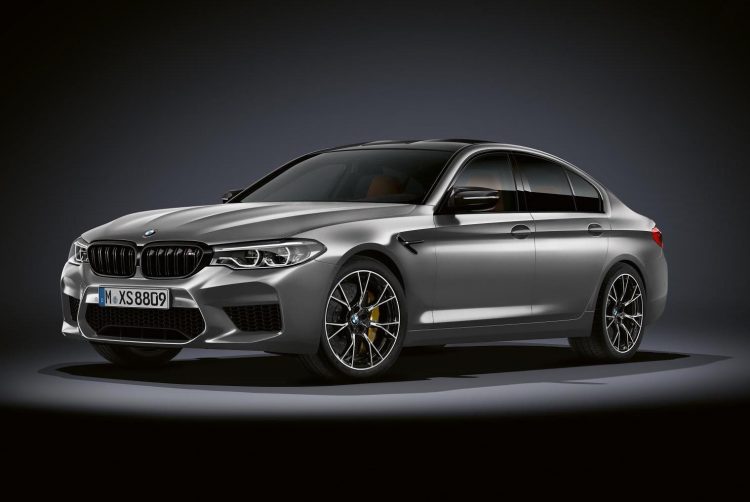 As suspected, the M5 Competition uses a tweaked version of the 4.4-litre twin-turbo V8. Power output is tweaked to 460kW, up 19kW, while peak torque remains unchanged at 750Nm. This brings down the 0-100km/h time from 3.4 seconds to 3.3 seconds, with 0-200km/h coming up in 10.8 seconds. Despite the mind-blowing performance, fuel economy on the average cycle is stamped at a reasonable (for the performance) 10.8L/100km.
Following in the footsteps of the M3/M4 Competition, and the recently-announced M2 Competition, the M5 Competition is pretty much ready for competition. It features a number of tweaks to help it handle even better, while some cosmetic revisions help it stand out on the road.
For example, the engine mounts are swapped for more heavy duty versions, with the spring rate increased from 580N/mm to 900N/mm. This, BMW says, helps to improve responsiveness. The special edition also uses different suspension settings, bringing the ride height down by 7mm, while negative camber capability is stretched.
As for the design, the Competition uses unique 20-inch alloy wheels wrapped in 275/35 front and 285/35 rear tyres. High-gloss black is used for the front grilles, side grilles, side mirrors, rear spoiler, and window surrounds. There's also an M5 Competition badge on the rear.
Most excitingly, the M5 Competition has been confirmed for Australia. It will hit showrooms in the second half of this year, priced from $229,000. Speaking about the car, BMW Group Australia CEO, Marc Werner, said:
"Within weeks of revealing the BMW M5, we sold out of our initial allocation of 50 units. To now have the M5 Competition available to us is fantastic news. With more power and a further refined drive system, the M5 Competition will take the M5 experience to an even higher level."