The all-new Maserati Levante has been officially revealed, becoming the exotic carmaker's first ever SUV ready to take on the likes of the Porsche Cayenne and new Bentley Bentayga.
As suspected, the Levante shares a lot of design elements with its concept version brother. At the front is a pair of squinted headlights, an aggressive lower lip, and a big vertical grille layout, all accentuated by defined bonnet lines.
Around at the back are a set of muscular haunches bulging up towards the swooping roofline and thick D-pillars. The taillights seem to resemble those on the Ghibli, while underneath is a neat up-swept silver panel surrounded by quad-outlet exhausts.
In the engine compartment customers will be able to select between a range of petrol and diesel engines. Final specifications are yet to be confirmed, but it's believed it will be offered with a 3.0-litre twin-turbo V6 churning out around 260kW and 320kW.
For the diesel fans a 3.0-litre turbo-diesel V6 is said to offer around 205kW, with a 0-100km/h time of about 6.9 seconds. A V8 version is also expected to be the range-topper but it is yet to be confirmed.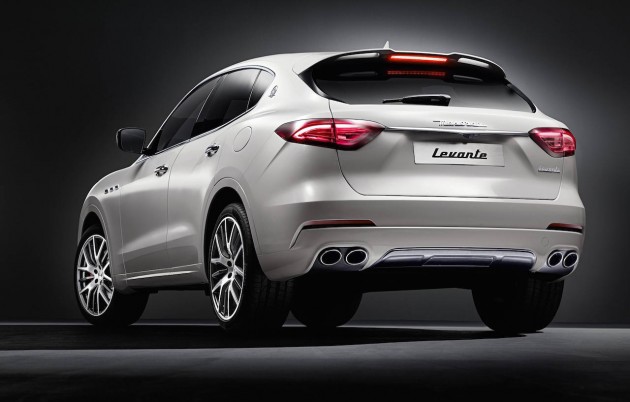 Maserati says all versions will come with an eight-speed automatic transmission, along with a sophisticated electronic suspension setup with controlled dampers and springs. All versions also use a "Q4" all-wheel drive system.
The Levante will be built in Italy at the company's production plant in Turin, with the first deliveries scheduled for Europe during the second quarter. Market entry for the rest of the world will commence later this year. More details will be revealed at the Geneva Motor Show in March.