McLaren is planning on developing at least two new models as part of its aim to produce and sell around 4000 cars per year in the near future. New models include a McLaren F1 successor/Lamborghini Aventador rival, and a Porsche 911 rival.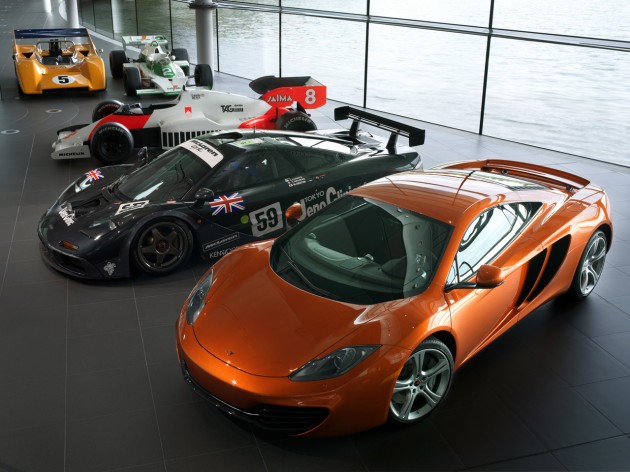 McLaren has only just launched the new McLaren MP4-12C, which is targeted at Ferrari 458 and Porsche 911 Turbo buyers. It features an all-wheel drive system and a 441kW/601Nm 3.8-litre twin turbo V8 engine – it's one of the quickest supercars on sale today (0-100km/h in 3.3 seconds, top speed beyond 320km/h).
With the help of recent investments, including a "significant" injection of cash from a Singaporean businessman last week, McLaren is keen on expanding operations as originally planned. Earlier last year McLaren said that it was going to open up 35 new showrooms around the world, including ones in China and here in Australia.
Now that the company is settling in very nicely, more models are in the pipeline. One of which will be a successor to the late and great McLaren F1 supercar. The original managed a record-breaking top speed of 391km/h. The new McLaren F1, codenamed P12, will apparently weigh around the same weight as the McLaren MP4-12C (1300kg) and use an engine developing just under 600kW (800hp).
As for the Porsche 911 rival, codenamed the P13, it will be developed to take on the normal Porsche 911 range and enter the market as the entry-level McLaren. McLaren is reportedly planning to sell around 2500 of these P13s per year, while the MP4-12C will make up 1300 sales, leaving the P12 McLaren F1 successor to make up for the remaining 200 sales per year.
McLaren is serious about the new models and says each new car will be a true McLaren in every sense. All of them will also use the MP4-12C's monocoque carbon fibre tub chassis to help keep weight to a minimum and structural integrity to a maximum. McLaren managing director Antony Sheriff recently said,
"Whatever we do will be based on carbon. It will have performance and handling that's the best of its segment."
A McLaren MP4-12C convertible is also said to be on the cards, although official confirmation is yet to be announced.
The McLaren P12 F1 successor is expected to enter the market during the beginning of 2013, while the P13 Porsche 911 rival is expected some time towards the beginning of 2014.
It's all exciting stuff from McLaren, it will be great to watch this company grow over the next few years as the management team seems very committed, and is meeting goals as planned.
Also check out:
– McLaren MP4-12C to get tweaks with improved sound
– McLaren Mercedes: The Secret World of Unit 2
– Video: McLaren MP4-12C vs Ferrari 458 Italia