A Chinese driver by the name of Zhang Shengjun has set a new world record for the most donuts around a car driving on two wheels at the China Drift Championship.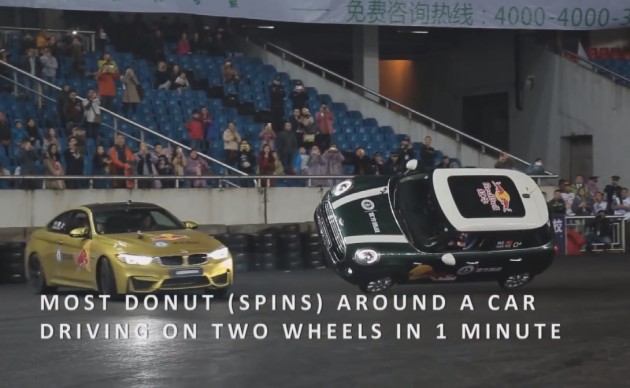 Held at Chongqing Olympic Park, Zhang drifted an M4 around a MINI Cooper that somehow managed to keep two wheels off the ground while dealing with the M4 shrieking around it. In just 60 seconds Zhang completed 10 full laps around the MINI to create the new Guinness world record.
Just prior to setting this new world record, the driver of the MINI (Han Yue) broke the record for the world's tightest parallel park, landing his MINI in a car spot with just 8cm left between the two surrounding cars.
The BMW M4 uses a twin-turbo 3.0-litre six-cylinder that produces 317kW and 550Nm, and can shoot from 0-100km/h in just 4.1 seconds. Australian prices for the BMW M4 start from $166,430 (excluding on-road costs).