BMW has finally shed some official light on the highly-anticipated and long-awaited BMW M2 performance coupe, releasing a quick teaser on social media.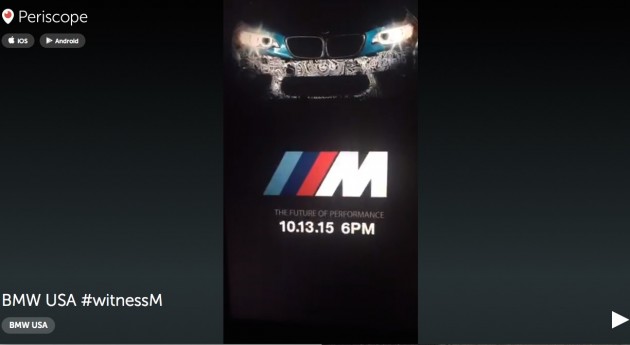 The company released a short teaser video on Periscope, live video social media channel, showing us a glimpse of a prototype version of the M2. It looks to be the same prototype we've been seeing floating about in Germany.
Of course, no official specs or details have been released with the teaser. It simply confirms the car will debut on October 13, at 6pm (USA time).
As far as we know, the car will come with an iteration of the company's 3.0-litre turbocharged inline six engine. According to various reports the engine will produce around 275kW of power and 500Nm of torque.
With this level of power, acceleration from 0-100km/h is expected to be dispatched in around 4.5 seconds, with a potential 'M Driver's package' top speed of around 275km/h.
There has been some unofficial confirmation that BMW M will offer the new model with both a six-speed manual or seven-speed dual-clutch automatic. This will come as a big relief for the fans, as most modern sportscars are turning to auto-only configurations. We'll have to wait until tomorrow morning (Australian time) for all the details. Stay tuned.
UPDATE: It has now been officially unveiled. Head over to our BMW M2 report for all the details.