No longer do you need to stare gingerly at the fuel gauge while driving along your favourite strip of road-to-nowhere. The 2013 Honda CR-Z is here to prove petrol cars can be both fun and frugal.
With fuel prices rising and rising, simply going for a drive for the sake of driving is getting nearer to unsustainable. That's where cars like the CR-Z come in. There aren't many on the market at the moment, making the CR-Z a truly unique and very appealing proposition for us driving enthusiasts.
It is the only true hybrid sports car on sale that comes in at the friendly side of $40,000, offering that proper spirited driving character paired with a powertrain that doesn't suck your bank balance dry.
The CR-X-inspired CR-Z was launched in Australia in November 2011, and it was introduced as the world's first hybrid car offered with a manual transmission. For the 2013 model, the six-speed manual is still available.
Honda has trimmed down the variant lineup for the 2013 version. Now there's just one model line, which is available in either manual or CVT auto (as tested).
Also new to the 2013 version is a lithium-ion battery, a slight power increase from 91kW to 100kW (99kW for the CVT auto), and a Plus Sport (S+) button on the steering wheel to ensure that zesty driver interaction is still there.
Prices start at $38,490 for the manual, and $40,790 for the CVT.
2013 Honda CR-Z – THE SPECS
Engine: 1.5-litre four-cylinder with IMA hybrid
Output: 99kW@6600rpm / 172Nm@1000-3000rpm
(100kW/190Nm manual)
Transmission: CVT continuously variable auto
Drive type: Front-wheel drive
Wheels: F: 17×6.5, 205/45  R: 17×6.5, 205/45
ANCAP: Five stars
Kerb weight: 1199kg
Power-to-weight: 12.1:1 (kg:kw)
Official fuel economy: 5.0L/100km (5.3L/100km manual)
Economy during test: 6.0L/100km
Fuel capacity/Type: 40L/91 RON
Power efficiency: 19.8kW:L/100km
0-100km/h as tested: 8.4 seconds
Priced from: $40,790
2013 Honda CR-Z – THE PACKAGE
Steeping into the CR-Z reminds you of the CR-X heritage. The cabin is very low and you need to crouch right down to get inside. Once you're in, the driving position is authentic sports car. The seats sit right on the floor with your legs sprouting out horizontally. The driving position is also spot on and the steering wheel falls right at your chest.
Rear seat space is seriously restricted and at best only useful for young or very small people. Legroom is almost non-existent and headroom is very tight due to the sleek, sloping roofline.
Cargo space is similarly confined, with 225 litres on offer. Though, this can be expanded to a respectable 401 litres when the otherwise redundant rear seats are folded down.
While there's no doubt you're sitting in a sports car, with the low-slung seating, some of the interior design features do seem a bit incoherent.
The centre touch-screen interface, for example, appears as though it doesn't really have a home and perhaps was a bit of an afterthought. The climate controls aren't immediately intuitive either, nestled on a cluster near the steering wheel, and the passenger side of the dashboard kind of just chops off without meeting or flowing in with the door trim design.
Aside from these minor quibbles the fit and finish is perfect Honda, with excellent build quality and a decent use of materials. It's also packed with standard features, such as leather front seats which have heating functions, sat-nav, power windows, a tinted glass roof, extra dark privacy tinted windows, and a beefy six-speaker stereo with multimedia support including DVD playback.
As for safety, the CR-Z comes with a reverse parking camera, eight airbags (including rear seat head airbags – despite the lack of space back there), stability and traction control, and electronic brake force distribution with ABS. In recent tests, ANCAP gave it a five-star safety rating.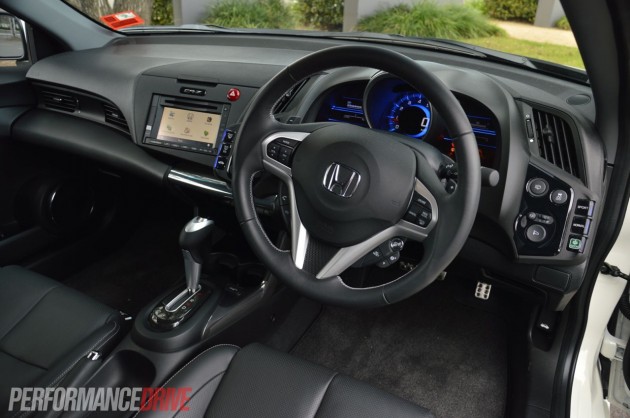 2013 Honda CR-Z – THE DRIVE
Out on the road, the chemistry between driver and machine in the CR-Z is hot. Both your and its heartbeat flutters from the moment of ignition, and you feel like a lot of fun is just around the next corner.
And it often is. The steering is direct, pokey, and well-weighted for an engaging driving feel. Tip it into a bend with decent vigor and the CR-Z responds enthusiastically by remaining flat and committed to the apex. It feels like it enjoys corners with you. It's a testament to the original CR-X sports car which inspires it.
Road composure is lively and solid, in that, the springs are firm and you often feel every detail in the road surface. This can be seen as either a good thing or a bad thing. On one hand, the ride is busy. On the other, it's energetic and eager, with practically zero body roll.
While we wouldn't say the suspension is too firm for a car of this nature, we feel some additional tuning to the suspension could be made to suit Australia's less-than-ideal roads. It feels like the dampers don't quite match the springs, on some surfaces anyway.
Fortunately, most of the time you're too busy having fun to care. The CR-Z is a theatrical car, and a package that brings a sense of occasion with every drive.
You can push it pretty hard into corners with almost no understeer. Due to the firm suspension, the tail can become twitchy and lightened if you shift the weight around, with hints of opposite lock locking in that interactive driving pedigree. When really pushed, it can become a little bit nervous, but the front end always remain secure which brings back your confidence in the car's ability.
With three different driving modes at the driver's disposal, the CR-Z aims to be a versatile machine too. You can select from Econ, Normal, and Sport modes, with each providing slightly different throttle response and steering weight settings.
From point to point, it's difficult to spot out the differences. We used the Econ mode for driving around town and only referred to the Sport mode during spirited tests along mountain roads, also using the Plus Sport button which provides a just-noticeable bit of extra shove. If you left it in the default Normal setting you wouldn't be missing out on all that much, either way.
Even straddling a few mountain runs, the CR-Z is amazing on fuel. We averaged around 6.0L/100km during our week with the car, and this included full-throttle 0-100km/h testing. You can expect to cover 500km-plus before you need to refuel.
As for the performance from the hybrid, well, the CVT is the only letdown. It's the constant revving that can tarnish that great feeling of building momentum that we all love. We timed 0-100km/h in a reasonably swift 8.4 seconds, which is not bad for light sports car. It performs best when it's up to speed.
Jumping on the brakes and the lightweight coupe can be pulled up time and time again with no arguments thrown your way. The pedal is meaty and bites the four-wheel discs with good pressure and feedback. The pedal does tend to become really firm the harder you push it, removing some of the feedback, but it's better than becoming softer, like in some cars.
2013 Honda CR-Z – THE VIDEO
2013 Honda CR-Z – THE VERDICT
As we said at the beginning, the CR-Z is a car that allows you to go for a drive simply for the sake of enjoying the changing scenery, and the interaction between man and machine. You won't feel guilty about 'wasting' petrol or burning up the atmosphere, and best of all, the CR-Z is a genuinely rewarding driver's car.
It handles brilliantly, the steering is precise and communicative, and while the engine likes to sing its lungs out with the CVT, there's no mistaking its willingness to provide thrills and enthusiasm.
PROS:
– Proper Honda, dart-like handling
– Exceptional fuel economy; we averaged just 6.0L/100km
– Sharp, modern looks, also quite cute and petite in the flesh
– Sporty interior atmosphere, low-slung
– The only hybrid sports car for under $40k, and with a manual transmission

CONS:
– Suspension might be too firm for some
– CVT draws out some of the attractive driving character
– Impractical rear seats
– Disjointed interior design features
2013 Honda CR-Z – THE COMPETITORS
Competitors below are included due to their economy and similar price and not necessarily in regards to outright sportiness.
MINI COOPER D
1.6-litre turbo-diesel four cylinder, 82kW-270Nm – 3.9L/100km – 1090kg – from $34,800
Lexus CT 200h Prestige
1.8-litre four-cylinder with hybrid electric motor, 100kW-142Nm – 4.1L/100km – 1465kg – from $39,990