Although it's not a conventional unveiling, this toy car, at 1:18 scale, it said to represent the exterior of the new Bentley Bentayga SUV very accurately.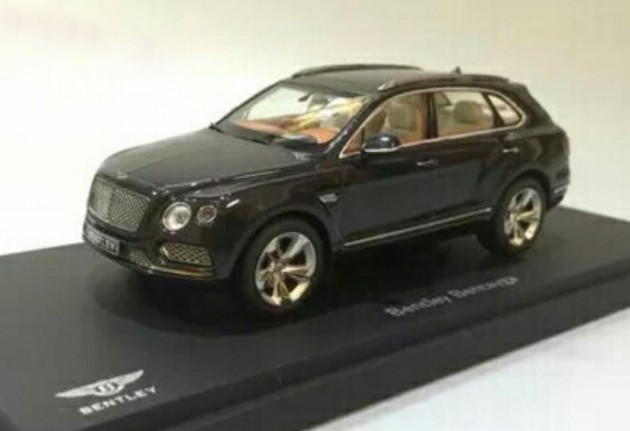 This isn't the first time an exterior design has been inadvertently revealed before the actual car via a toy. It's believed the design outlines are given to toy producers early so they can make the model in time for when the car makes its proper debut.
Bentley of course hasn't confirmed if the model is an authentic and therefor accurate representation, but it certainly looks that way. It showcases fine attention to detail, including the chrome trimming around the windows and taillights.
At the front the SUV is obviously inspired by the EXP 9 F concept, however, it gets more civilised headlights that are in tune with the company's current design theme. There's also a proud and prominent bonnet, defined slab-like body lines, and a massive glass roof.
We don't get a good look at the interior but it seems like it will feature a large centre console that runs down through the rear seat, leaving only four seats. A mix of exotic materials and tones make up the rest of the decor, but we're sure Bentley will be offering various customisation options for each buyer of the real thing.
Unfortunately there's no image showing under the bonnet. It is expected to come with Volkswagen Group's new 6.0-litre W12 TSI engine though, producing 447kW and 900Nm. With this level of output, the Bentayga will be majestic yet very swift.
The official unveiling for the new model will take place at the 2015 Frankfurt Motor Show next month. Even if this model is a 'fake', the producers have done an extremely good job of predicting the design and getting all of the proportions right.
More images can be found at CarNewsChina.com