The all-new 2016 Skoda Superb has touched down in Australia, bringing a range of new technologies to the luxury flagship, and new efficient engine options including a potent 206TSI.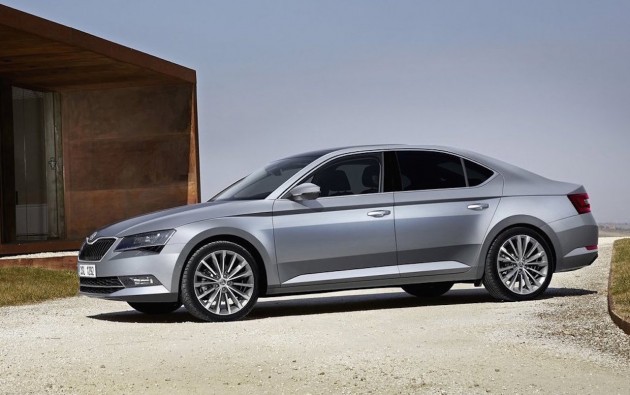 Skoda unveiled the new Superb last year. It showcases the company's traditional focus on practicality while being underpinned by Volkswagen's latest MQB platform to make it the most dynamic Superb ever made.
It's larger overall, with 157mm of extra legroom added in for rear-seat passengers, with 69mm more elbow space in the back. The boot is also 60 litres larger, rated at 625 litres in sedan form and 660 litres in wagon format (expandable to 1760L and 1950L)
Australians are offered three different powertrain/trim options, including two TSI petrol units and a TDI turbo-diesel. Outputs span from 140kW in the TDI, to 162kW and 206kW in the 2.0-litre TSI petrol models. The three engines are available in sedan and wagon form.
All variants come with a six-speed dual-clutch DSG auto transmission, with the 206TSI versions also coming with all-wheel drive as standard, while the others use front-wheel drive. Flagship 206TSI models also get sports suspension with 133mm of ground clearance, with the others getting regular suspension with 148mm of clearance.
In terms of performance, the 162TSI sedan does 0-100km/h in 7.0 seconds, and the 140TDI sedan does it in 7.7 seconds (wagon adds 0.1 second). Both sedan and wagon 206TSI models do the sprint in an impressive 5.8 seconds. Average fuel consumption rates range from 4.8L/100km for the TDI, 6.4L/100km for the 162TSI, and 7.3L/100km for the 206 TSI (sedan and wagon are the same).
All versions come comprehensively packaged, with an 8.0-inch touch-screen interface on the dash with sat-nav, Android Auto and Apple CarPlay, along with adaptive cruise control, three-zone climate control, heated front seats with an electronically adjustable driver's seat, front and rear parking sensors, and adaptive bi-xenon headlights.
The 206TSI versions add a drive mode select system for the driver, LED ambient lighting, 19-inch alloy wheels (up from 18s), chrome exhaust tips, and paddle shifters.
The new model is now on sale in Australia with prices starting from the following (excluding on-road costs). Optional packs are listed below.
2016 Skoda Superb Sedan 162TSI DSG – $39,990
2016 Skoda Superb Sedan 140TDI DSG – $43,990
2016 Skoda Superb Sedan 206TSI 4×4 DSG – $50,990
2016 Skoda Superb Wagon 162TSI DSG – $41,690
2016 Skoda Superb Wagon 140TDI DSG – $45,690
2016 Skoda Superb Wagon 206TSI 4×4 DSG – $52,990
Optional Packages:
Image Pack (162TSI and 140TDI only) – $1700
Tech Pack (162TSI and 140TDI) – $4700
Tech Pack (206TSI 4×4) – $3400
Comfort Pack (all variants) – $1500