We've seen the great-looking Kia pro_cee'd GT, which is a three-door sports hatch, but now an image, the first official image in fact, has surfaced online showing the Kia cee'd GT five-door.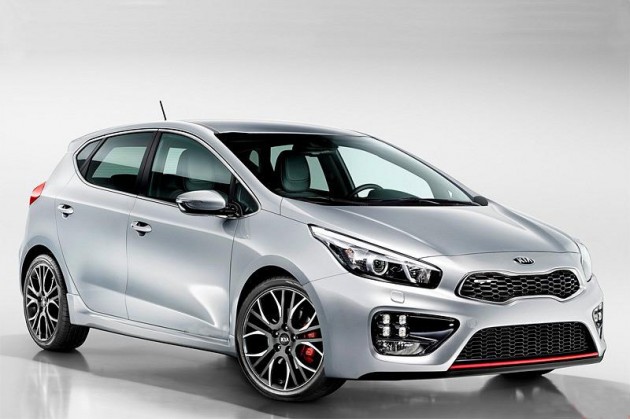 Adopting the same sporty philosophy as the pro_cee'd GT, the five-door is powered by the same 1.6-litre GDI turbo four-cylinder producing 150kW of power and 265Nm of torque. The engine is also seen in the Hyundai Veloster SR Turbo. Acceleration from 0-100km/h is possible in 7.9 seconds in the three-door, which means this five-door version is likely to be a touch slower due to added weight.
It appears the five-door version will showcase a very similar exterior design as the three-door, including the 18-inch alloy wheels hiding a set of 300mm performance front brakes. The calipers are painted red too and match the red trim along the front spoiler.
Other sporty features are expected to be carried across from the three-door, including the sports lowered suspension, a neat bodykit with side skirts and a rear spoiler, Recaro seats inside, and a number of darkened/black trimmings throughout.
The three-door, which will be Kia's first ever proper hot hatch, will go on sale in parts of Europe during the middle of this year, while this five-door version is set to follow later in the year.
Kia Australia is said to be looking into a possible introduction Down Under, however, at this stage there's no official plans.