Audi has been spotted at the Nurburgring testing a sporty Q8 prototype, with all signs pointing to an SQ8 variant. The sports variant is set to top the range until the rumoured 'RS Q8' version comes along.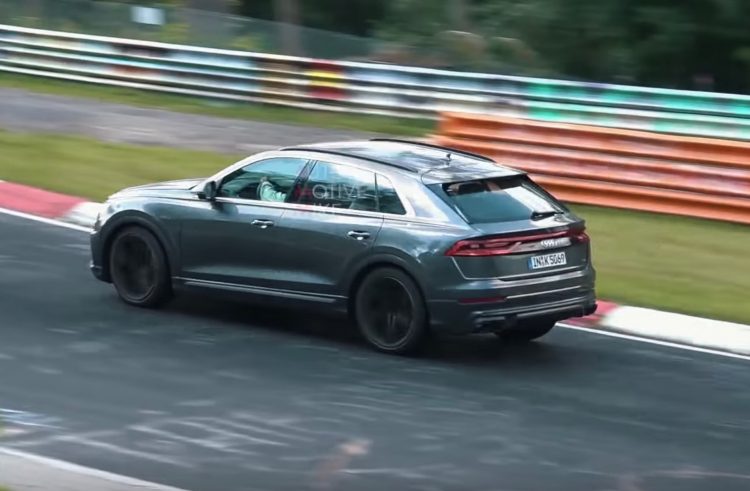 There doesn't appear to be any camouflaging wrap on one of the prototypes in the video, and we guess that's because Audi has already unveiled the Q8 production car. However, some of the sporty highlights haven't been seen before until now, such as the large alloy wheels and aero skirting around the lower edge of the body.
By the looks of those low profile tyres, off-road performance will probably be sacrificed for the sake of outright performance, much like in the case of the competitors. As such, the Audi SQ8 will need to fend off the likes of the Mercedes-AMG GLE 63 Coupe and the BMW X6 M.
According to reports Audi might offer two different powertrain options for the SQ8, with some markets receiving a 3.0-litre petrol with forced induction producing around 350kW, while other markets might also be offered the 4.0-litre turbo-diesel V8 from the SQ7, which produces 320kW/900Nm. In either case, some assistance is likely to come from a mild hybrid setup with a 48V system.
The test driver appears to be pushing the Audi SQ8 pretty hard around the gruelling German circuit, with the tyres making all kinds of merciful squeals and screeches. No doubt the big beast will be quite a heavy one, underpinned by Volkswagen Group's largest platform, the MLB Evo.
Some racy highlights are expected to spruce up the interior in Audi's traditionally subtle way, with sports seats potentially wrapped in diamond-stitched leather, with a bespoke steering wheel and pedals reminding the driver of the vehicle's performance credentials.
A full debut is tipped to take place at the Paris motor show in October. In the meantime, click play below for a preview. We're sure you'll agree, it definitely has a forceful sound and presence to it.