With the 2011 Pikes Peak International Hill Climb event just around the corner, we'd thought we'd take a moment to remember one of the most famous Pikes Peak driver and car duos of the era; Nobuhiro 'Monster' Tajima and the Suzuki Sport Cultus, Escudoi, SX4 and XL7.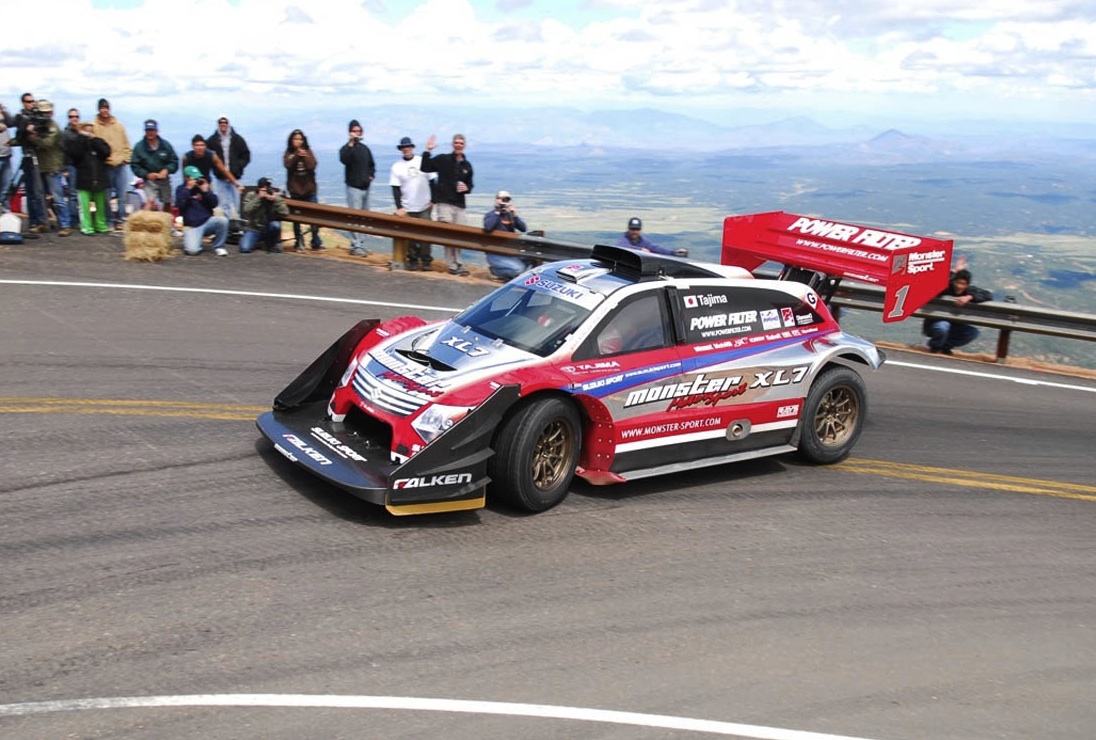 Some may remember the Suzuki Escudo from the original Playstation game, Gran Turismo 2. The Escudo, also locally known as the Suzuki Vitara and the Suzuki Sport XL7 in the US, didn't really share much with its more conventional counterpart. It used a twin engine setup powering both the front wheels and rear wheels separately.
Later in life it's engine changed to a N36A 3.6-litre twin-turbo V6 engine producing a whopping 740kW and 1000Nm in 2007, when Monster adopted Suzuki's XL7 platform. The car remained in the Unlimited class of the Pikes Peak climb and was built on a steel space frame chassis. Most of the bodywork was made from carbon fibre and Kevlar composite, including the huge aerodynamic reinforcements front and rear. Overall race weight, including Monster, was 1190kg.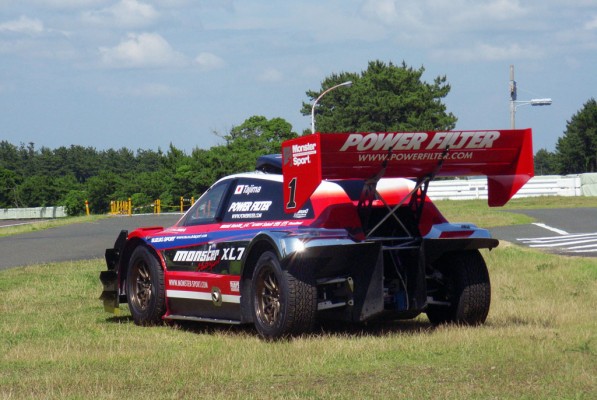 Transferring the power through to the ground was a six-speed sequential transmission, hydraulic controlled front and rear differentials and a multi-plate, mechanical centre diff. These systems ensured all of that power was put through to each wheel with maximum force. The main clutch was then an EXEDY direct-release triple plate type.
As for the rolling stock, the Sport XL7 rode on RAYS CE28N lightweight wheels measuring 18×11 inches, wrapped in 285/60 FALKEN S/TZ04 Pikes Peak Special tyres. These were slowed by a mega braking package consisting of 378mm ventilated disc rotors front and rear, clamped by eight-piston calipers.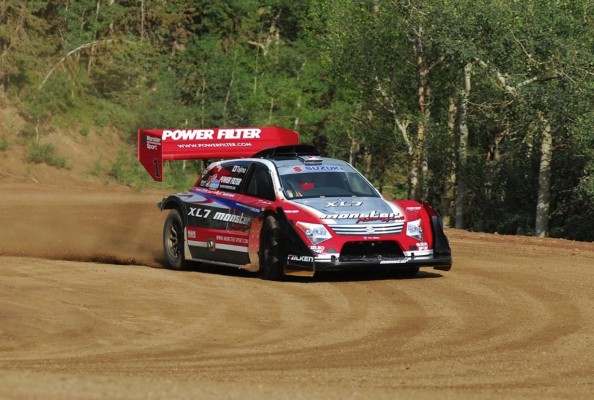 This incredible combination of equipment, along with Monster's excellent driving skills, took Suzuki Sport to an overall victory at Pikes Peak in 2007, where a new world record was broken. Monster needed to bet a time previously set by Rod Millen of 10 minutes and 4 seconds. Tajima managed a final time of 10min and 1.4 seconds. This record was written in the Guinness Book of Records and still stands today as the quickest 'Race to the Clouds' time.
Take a look at the video below for a very cool interpretation of 'Monster' Tajima wrestling his latest creation, a Suzuki Sport SX4. It features a 3.1-litre twin-turbo V6 producing 678kW (910hp). This footage was taken from the 2010 Pikes Peak event, and although Tajima didn't set another record on this particular run, it gives you an awesome representation of the 19.99km run. Watch how close he comes to cliff edges, and fearless photographers getting as close to the action as possible.

This year's Pike Peak International Hill Climb starts today (local time), so look out for our updates on the results later this evening. It will be the last time the race will be held incoporating dirt sections of the track, as a lawsuit has forced councils to pave the road all the way to the top.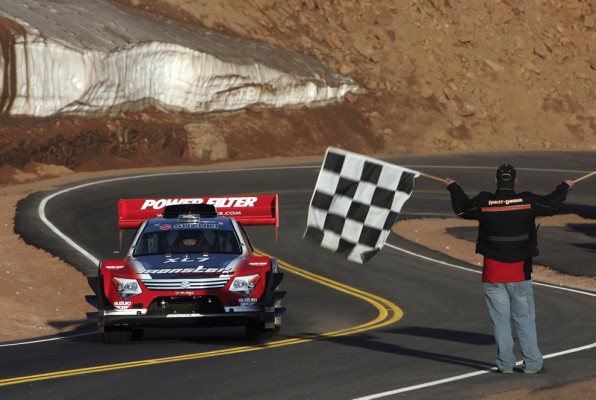 There's a couple of drivers this year that are tipped for winning. Rhys Millen, son of Rod Millen, will compete in the Unlimited class in a Hyundai-powered PM580 Le Mans-style racing car. It features a turbocharged Lambda 4.1-litre V6 producing 522kW (700hp) and 948Nm. In a car weighing 873kg, it's sure to be an absolute rocket up the mountain.
Nobuhiro Tajima will also make a return this year in the Suzuki SX4 producing 678kW. Some revisions have been made to the car for this year's attempt though, including suspension and tyre adjustments to suit the increased amount of tarmac sections on this year's track. Monster hopes to crack the ten-minute barrier this year.
Look out for full reports on our news section on the front page for the full results in the next day or two. In the meantime take a look at the video below of Millen and Tajima anticipating this year's event.