European Union Intellectual Property Office records have revealed Audi has registered to trademark the name "RS Q8", potentially hinting at a future performance SUV.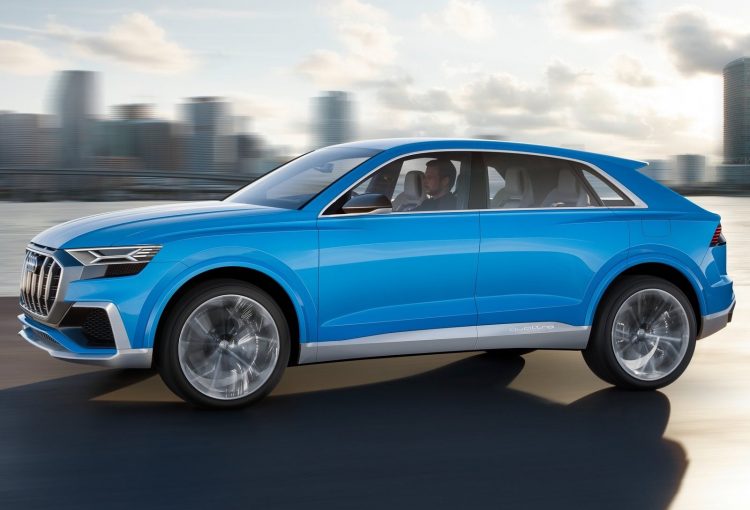 The Q8 will come in as Audi's flagship SUV, sitting above the Q7. Production commences in 2018 and will take place at Audi's Slovakian plant in Bratislava. It will rival the likes of the BMW X6 and the Mercedes GLE Coupe.
There has been rumours of a full-strength RS version coming further down the track, sitting above the SQ7 in terms of sheer performance. Following the trademark find we can now confirm Audi is at least considering such a model.
According to reports the RS Q8 will be powered by a 4.0-litre twin-turbo V8. This engine already exists and, in the case of the latest Audi RS 6 Performance, produces up to 445kW and 700Nm. With this kind of power on board the RS Q8 could become one of the quickest petrol-powered SUVs in the class.
Being an RS model means it would also adopt plenty of bespoke performance highlights, including sports suspension, unique quattro all-wheel drive tuning, massive brakes, and a special interior with big chunky bucket seats.
Audi is said to be working on introducing more RS models in the future. This could mean an RS model for every model family, from the A1 and up to the A8. We've already seen some evidence of this with the launch of the RS Q3, RS 3, and the upcoming RS Q5, along with the usual RS 4 and RS 6.
With the regular Q8 (concept shown) going into production next year we probably wouldn't expect to see the RS Q8 in showrooms until at least 2019 or beyond.