Volkswagen is renowned for its efficiency, build quality, and somewhat conservative and sure-footed approach to vehicles. The 2012 Volkswagen Scirocco R is the company's spiciest new model, spiking the showroom punchbowl with flamboyant styling, serious performance, and a dash of insanity.
2012 VOLKSWAGEN SCIROCCO R – PROS AND CONS
PROS:
Serious performance at the limit
Road holding and grip
Sleek and attractive looks
Top notch build quality inside and out
Engine sound
CONS:
Firm ride, jiggly in Comfort mode
Only two rear seats; tight room
DSG can be clunky in traffic
2012 VOLKSWAGEN SCIROCCO R – START UP, REV AND TAKE OFF VIDEO
2012 VOLKSWAGEN SCIROCCO R – OVERVIEW
The beauty of the Scirocco R is that it seems like a concept car. It seems like one of those ideas that sounds awesome at first, but disappointing in the end because the company doesn't go through with production. This is available right now from the showroom.
It's not super-expensive or a limited edition either – available from $47,490 – yet it showcases sleek chop-top looks and a very angry 188kW 2.0-litre turbocharged engine that spits and pops like a rally car on a special stage.
The high-performance Scirocco R is the only Scirocco on sale in Australia, as opposed to the various  non-R variants on sale overseas. It's a strict two-door coupe/hatch, available in manual and DSG auto form.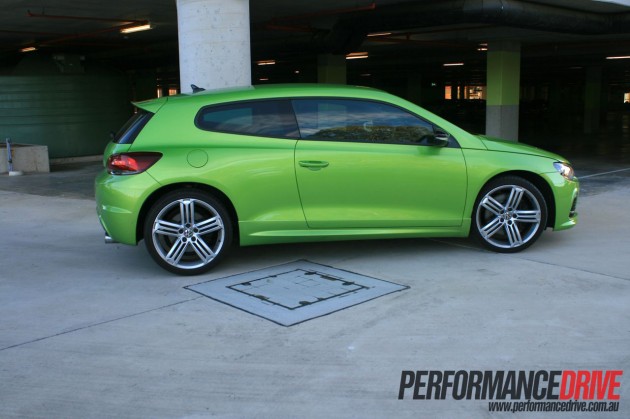 The Scirocco is based on the Volkswagen Golf and the R replaces the three-door Golf R in the Australian lineup. Unlike the Golf R though, the Scirocco is front-wheel drive instead of all-wheel drive, so it's lighter in weight. A lot lighter in fact. The Golf R, which is now only available as a five-door, tips the scales at 1476kg (manual), while the Scirocco R weighs in at 1351kg (1371kg for the DSG).
This means, in theory, the Scirocco is quicker. According to specs the Golf R is able to cover the 0-100km/h sprint in 5.7 seconds (DSG), while the Scirocco manages it in 6.0 seconds (we timed 5.9) – the difference is down to the all-paw grip of the Golf R.
We don't consider the Scirocco R to be a sporty hatch. As far as we're concerned, it's a performance hatch, as anything that dips into the 5.0-seconds range for the 0-100km/h sprint has obviously been engineered for more than simply picking up the groceries. On that note, the Scirocco R is for anyone that still wants the Golf R three-door, and for those who are in the market for a stylish yet very quick hatch.
2012 VOLKSWAGEN SCIROCCO R – ACCOMMODATION AND EQUIPMENT
Being the top-line 'R' version, the Scirocco comes with many standard and optional features. In our test car there's an optional 6.5-inch touch-screen interface with satellite navigation, supported by a Dynaudio 300-watt premium sound system. It's USB/iPod and SD card compatible, with Bluetooth connectivity.
The system is quite user-friendly, with jump-to menu buttons around the screen, and decent navigation and operation. The stereo is also very good providing decent bass and clarity.
The first thing you'll notice about the interior is the two-tone heated bucket seats. These give a hint to the car's capabilities. They're deep and heavily bolstered, and really hug you in. They are comfortable for most of the part, however, they can be a little too focused on long journeys.
In the back there are two individual bucket seats in matching two-tone black 'Kyalami' and grey trim. They're not quite as heavily bolstered as the front ones, but they are pretty serious as far as rear seats go, showcasing single-piece head rests moulded into the seat backs. Legroom and headroom is a little tight in the back, especially if a taller passenger is in the front.
One of the standout pieces of equipment in the Scirocco R is the adaptive suspension. We'll go into more detail about what it does on the road in the drive section down the page. Basically, there's a button ahead of the gear knob which allows you to select between Comfort, Normal and Sport mode vehicle settings.
Each setup changes the steering response and suspension damping accordingly. In Comfort, the steering is at its most relaxed setting, while the suspension is slightly softer and forgiving than in Sport.
Other highlights in tune with Volkswagen's 'R' personality include a sporty flat-bottom steering wheel, racy aluminium pedals, aluminium R sill plates, and grey stitching around the steering wheel, gear knob and seats.
On the outside there's a neat bodykit with side skirts and a rear spoiler, all topped off by a set of 19-inch 'Talladega' alloy wheels wrapped in 235-wide tyres, with low tyre pressure indicators.
Boot space is pretty good for a three-door coupe/hatch, with 312 litres on offer, expanding out to 1006 litres with the rear seats folded down. This measures up quite well against the Golf R five-door, which offers 275/1230 litres of space – the difference is due to the Golf R's rear drive components.
2012 VOLKSWAGEN SCIROCCO R – DESIGN AND SAFETY
The design is the Scirocco's forte. It's not really a coupe but it does swoop down at the back to push it out of the conventional hatch layout. The roof slopes down to a degree where it does intrude on rear seat headroom as mentioned above.
Amongst a crowd, the car definitely stands out, especially in the Viper Green Metallic as featured here. The styling showcases Volkswagen's latest design language, with a neat three-angle front end, black horizontal fins in the grille, and slightly inverted headlights. There's also daytime running LEDs in the corner vents.
Everything in terms of styling is purposeful and not over done in any one area, in our opinion. The spoiler at the back finishes off the sleek roofline, while the aggressive side vents in the front feed air to an intercooler (on the passenger side).
As for safety, the Scirocco R comes with plenty of electronic driver aids, including switchable traction and stability control, and electronic brake force distribution. It's also equipped with six airbags, and is built around a rigid safety cell construction with side door impact protection.
ANCAP is yet to test the Scirocco, however, it has given the Golf the full five stars. Europe's NCAP has also awarded the Scirocco five stars.
2012 VOLKSWAGEN SCIROCCO R – ON THE ROAD
It's a cranky engine the 2.0-litre TFSI. Under some loads, the turbo dumps a whole lot of boost into combustion when you're not really ready, giving you a sudden hit of 330Nm (and some chirping wheelspin), while other times the engine is stubborn and won't give you much until poked harder.
There's no turbo lag, but there is a moment of hesitation when cruising about while the DSG and engine sync. Leave your foot down and a wave of boost pressure will come into play, sending a big turbo surge through your spine.
During our test drive through a twisty national park, we found the Scirocco R engine to be very powerful. It pulls you out of slow uphill corners with ease, while really shifting you in between corners on the straight. The engine also screams and roars with a deep tone, providing a proper yahoo hot hatch experience.
While the DSG can be a bit clunky at very low speeds, in manual mode the DSG is perfectly suited to faster tempo driving. It blips the throttle on downshifts on demand, and changes up gears almost instantly.
On the upchanges, you also get the thrill of hearing that Volkswagen burble-fart as the engine is cut momentarily while it shifts cogs (check video above for a demonstration) – it will definitely put a smile on your face the first time you hear this, as it makes you feel like you're driving an actually rally car.
As for the handling, near the limit the Scirocco R is very stable and solid. You can really tuck it in leading into and through the corners. And thanks to the Extended Electronic Differential Lock, very little power is wasted away to single-wheel wheelspin. You can also feel the front and rear inside wheels biting onto the road as the sports suspension and stabilisers press them down onto the tarmac. You will be surprised by its full potential.
In Comfort mode, the ride is a little jiggly but suitable for driving through car parks and over speed bumps. If you drive with more enthusiasm, the car starts to bounce around a little, especially at the rear when hitting undulations with a bit of speed. This is where the Sport mode is needed.
When engaged, the Scirocco stays firm and secure at all times. Even when absorbing decent bumps and uneven sections of road with speed, the suspension is firm but works well at absorbing bumps. It becomes a very well sorted setup in Sport, we were blown away by how much you can thrown at it.
Normal mode provides a nice balance between the two.
The steering is on the heavier side in Sport, providing a manly and chunky feel. There is a little bit of kick-back through the wheel under hard acceleration, but if anything, it adds to the occasion and heightens the driver engagement.
You can throw it into corners and change directions quickly, the steering is precise and allows you to hit the apex every time. It's almost as if it's looking at you and saying, 'is that all you've got?'.
When really pushed, some understeer is gently presented, but even then, the excellent stability control and trick differential can sort most of it out, giving you maximum corner speed and acceleration – not to mention roller-coaster-like g-forces.
Fuel economy is okay for a serious performance hatch. The official combined rating according to the ADR is 8.2L/100km. We averaged around 9.5L/100km.
2012 VOLKSWAGEN SCIROCCO R – VERDICT
Think of it as a smart but very powerful business man who likes to get a bit wild on the weekends.
The Scirocco R is developed by one of the biggest car companies in the world, with loads of quality engineering stemming from the Golf. However, it's also a little bonkers thanks to the swooping looks, and mad front-wheel drive 188kW powertrain combination.
As an everyday hatch, you will have to make some sacrifices, such as the tight back seats, firm suspension, and eager and sometimes hesitant engine in daily traffic conditions (with the DSG).
If it's fun you're after though, the Scirocco R is a hoot. It loves open roads and corners, and it continuously impresses you on how capable it is. It's also a sassy little body to wake up to every morning don't you think?
2012 VOLKSWAGEN SCIROCCO R – THE COMPETITORS
Audi S3 – 2.0-litre turbo four-cylinder, 188kW/330Nm – 1532kg – $70,900
A more up-market version of the Volkswagen Golf R, with more options and equipment. Same powertrain.

BMW 125i hatch – 2.0-litre turbo four-cylinder, 160kW/310Nm – 1345kg – $45,700
The new 125i hatch from BMW features the all-new 2.0-litre turbo four-cylinder, and is the only rear-wheel drive hatch on the market.

Renault Megane RS 250 – 2.0-litre turbo four-cylinder, 184kW/340Nm – 1393kg – $41,990
The definition of a raw hot hatch. Loads of power matched with excellent handling and lightweight performance.

2012 VOLKSWAGEN SCIROCCO R – SPECIFICATIONS
MODEL
2012 Volkswagen Scirocco R
ENGINE
2.0-litre turbo petrol four-cylinder with direct injection
ENGINE SIZE / COMPRESSION RATIO
1984cc / 9.8:1
BORE X STROKE
82.5mm x 92.8mm
POWER
188kW@6000rpm, 330Nm@2500-5000rpm
POWER TO WEIGHT RATIO
7.29: 1 (kg:kW)
KERB WEIGHT
1371kg (1351kg manual)
HEIGHT / WIDTH / LENGTH
1410mm / 1820mm / 4255mm
DRIVETRAIN
DSG dual-clutch six-speed auto transmission, front-wheel drive
BRAKES
F: Ventilated discs
R: Ventilated discs
WHEELS / TYRES
F and R: 19-inch, 235/35 R19
FUEL TANK CAPACITY
55 litres
FUEL TYPE
98 RON
FUEL CONSUMPTION
Tested average: 9.5L/100km
Official average: 8.2L/100km
PERFORMANCE
0-100km/h: 5.9 seconds (tested)
PRICED FROM
$47,490 (manual), $49,990 (DSG)
WARRANTY
Three-year/unlimited kilometre