Ford Australia has confirmed the next-gen Ford Mustang will be introduced to the local market. In a plan to introduce a number of new vehicles in the coming few years, the Mustang will join the 2014 Falcon and the new Mondeo.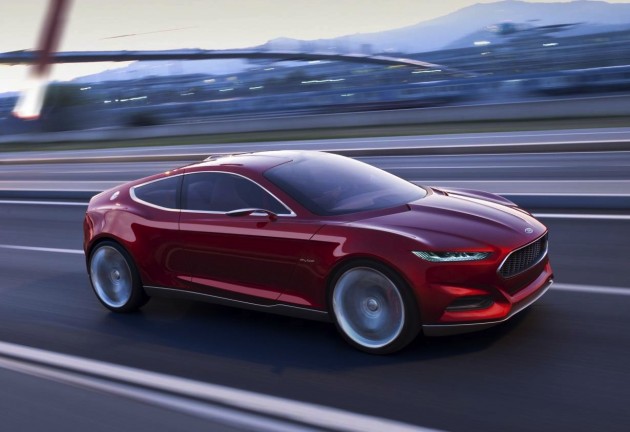 In a major 'Go Further' event today, Ford Australia said it is entering a new phase. Along with new models, the company will introduce a range of customer-focused technologies for future vehicles.
Alan Mulally, Ford Motor Company President and CEO, spoke about the company's future direction at the Sydney event, saying,
"We are introducing more great vehicles to Australian customers more quickly – with more innovation, more first-to-market safety advancements and more features customers really want and value."
Despite Ford Australia closing up business in 2016, Mulally said,
"We also are committed to Australia as one of our product development centres of excellence, with talented designers and engineers creating vehicles and technologies here in Australia for the world."
As for the Mustang, well, not much has been revealed at this stage. It's believed the new model, due around 2015, will be inspired by the Ford Evos Concept car (pictured) in terms of design, and come with a new EcoBoost four-cylinder engine for the first time, as well as a range of muscly V8s. It's unknown what models Australia will get at this stage.
More details from the Ford event are expected later today. In the meantime, Ford released some details on the 2014 Falcon and Mustang in a statement. See below;
2014 Ford Falcon
Ford provides another glimpse of what the next Ford Falcon will look like.
The 2014 Falcon will benefit from a range of environmental initiatives designed to reduce its CO2 footprint and improve fuel efficiency.
Among the improvements are enhanced aerodynamics as a result of extensive engineering and design work on the car. The 2014 Falcon will also be available with advance low-resistance tyres and a new high-tech six-speed automatic transmission that will reduce mass and weight.
The transmission will provide better acceleration and provide adaptive shifting, which analyses the driver's personal driving style and driving conditions and then implements optimal shifting accordingly.
Additional new safety, technology and design features will complement the vehicles' existing five-star ANCAP rating and deliver customers a world-class vehicle package. Further details of the 2014 Falcon will be announced closer to launch.
Ford Mustang
Australian performance car buyers will be able to get behind the wheel of the legendary Mustang when it returns to Australia in right hand drive. Ford executive vice president of global marketing, sales and service, Jim Farley, said,
"The car has a unique connection with customers. It speaks to who we are – allowing you to enjoy the freedom of the journey like never before.

"One Ford is opening the door for Australians and consumers around the world to our best-ever portfolio of vehicles and giving them new reasons to look again at Ford. The Ford Mustang is one of these vehicles."